As consumers become more aware of the positive effects the gut microbiome can have on overall health – including brain, digestive, and immune systems – they are looking for new and exciting ways to support their microbiome. We're excited to have ingredient solutions that support this evolution and holistic approach to health and wellness.
At Gillco Ingredients, we're proud to offer Cargill's EpiCor® Postbiotic to our food and beverage customers. This revolutionary ingredient is heat, pressure and shelf stable and provides the ability to support digestive and immune health. Derived from fermentation, tested for safety and efficacy, and backed by over a dozen published studies EpiCor® offers the formulation flexibility brands need, with the beneficial property's consumers want.
What's the difference between Prebiotics, Probiotics, and Postbiotics?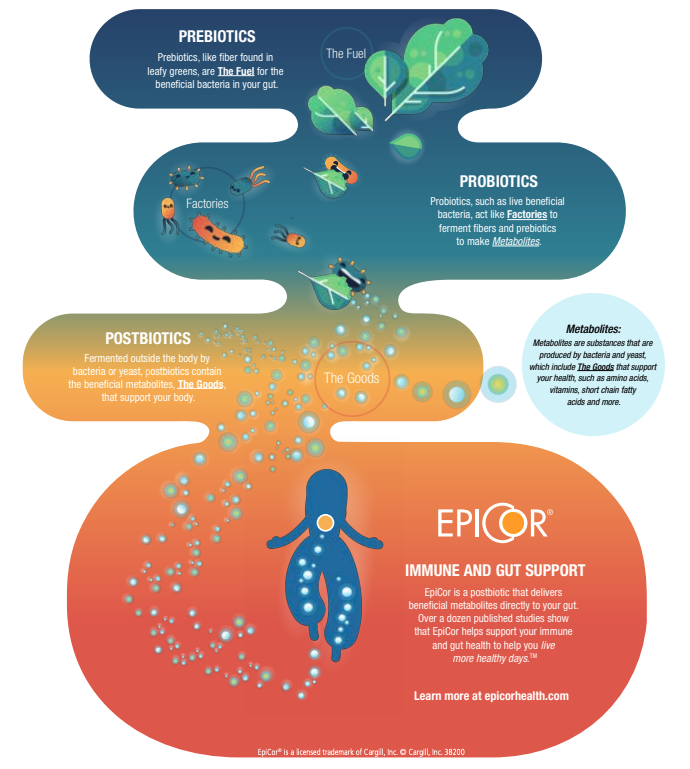 Prebiotics, like fiber found in leafy greens, are The Fuel for the beneficial bacteria in your gut.
Probiotics, such as live beneficial bacteria, act like Factories to ferment fibers and prebiotics to make Metabolites.
Postbiotics are fermented outside the body by bacteria or yeast and contain the beneficial Metabolites, The Goods, that support your body. They are produced using highly controlled conditions, and include amino acids, vitamins, and short chain fatty acids among other things.
What is EpiCor®?
EpiCor® Postbiotic is a whole food fermentate clinically shown to support the immune system and beneficially modulate the gut microbiota. Inspired by a real-life health discovery and supported by over a dozen published studies including multiple human clinicals, EpiCor® Postbiotic helps people live more healthy days®.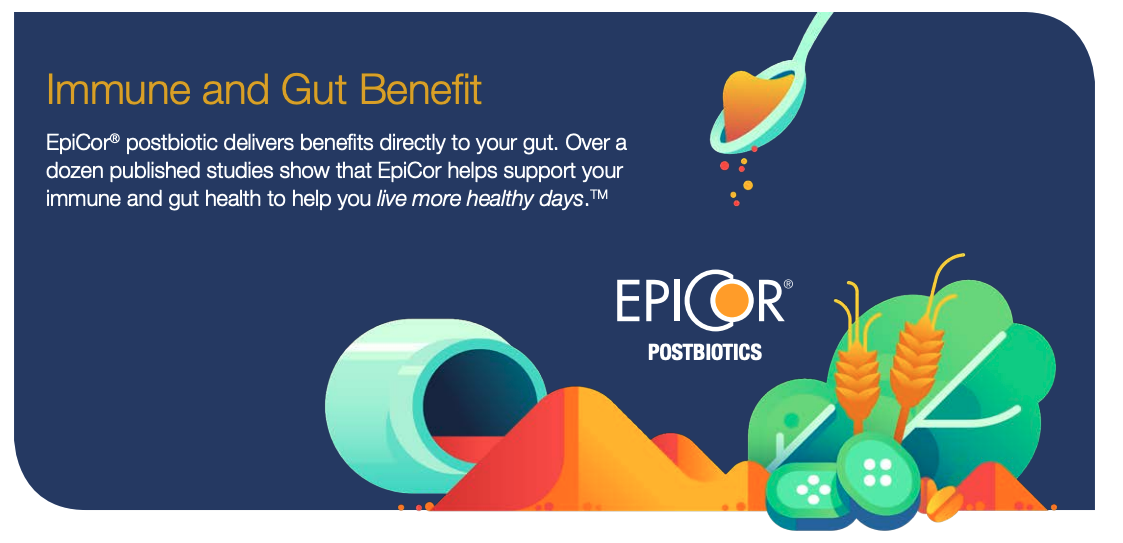 How was EpiCor® Postbiotic created?
Backed by Cargill's over 75 years of expertise, EpiCor® postbiotic is a first-of-its-kind ingredient resulting from a specialized anaerobic fermentation process using Saccharomyces cerevisiae (baker's yeast). It has a unique fingerprint of metabolites including proteins, peptides, antioxidants, polyphenols, organic acids, nucleotides, polysaccharides (1-3 1-6, beta glucans) and mannans.
What applications can EpiCor® Postbiotics be used in?
EpiCor® postbiotic can be formulated into most supplements and food and beverage products! When considering formulation, of a functional food, beverage or supplement, a key differentiating factor is that postbiotics are inanimate. EpiCor® can be formulated into a multitude of applications without fear of 'killing them' or hindering effectiveness when paired with other ingredients.
Following formulation, one must consider the impact of manufacturing. Many immune-supporting ingredients cannot survive the rigors of modern processing. Thankfully, the stability of EpiCor® can withstand baking, extruding, pasteurizing, stamping, squishing, soaking – you get the idea. It's inanimate nature and robust build sets postbiotics up for success at each step.
EpiCor® postbiotic has received FDA GRAS no objection for ages 2+
• Bars
• Breads
• Coffee
• Cookies
• Creamers
• Dry cereals
• Hard candy
• Juice Drinks (100%, fruit-flavored, frozen & processed)
• Milk products
• Mints
• Soft candies
• Soups/broth
• Sport/fitness/protein beverages (Dairy/Plant-based)
• Tea
• Tofu
• Yogurt (Frozen/Dairy/Plant-based)
What certifications has EpiCor® obtained?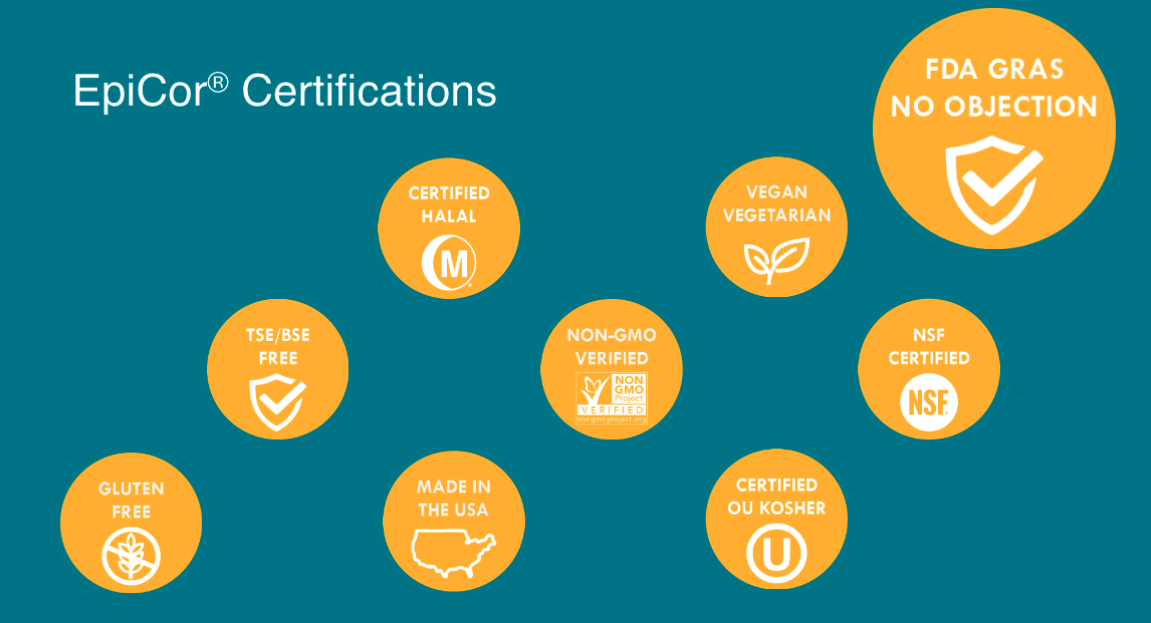 • Made in the USA
• New Dietary Ingredient (NDIN)
• Vegan
• Certified OU Kosher
• Halal
• NSF/cGMP Certified
• BSE/TSE Free
• Gluten Free
• Non-GMO Project Verified
Source: Next Evolution in Immune & Gut Health: Postbiotics, Cargill
EpiCor® is a licensed trademark of Cargill, Inc. © Cargill, Inc. All rights reserved. M38037E17 3/22
If you'd like to inquire about using EpiCor® Postbiotics in your food or beverage application, reach out to us today!