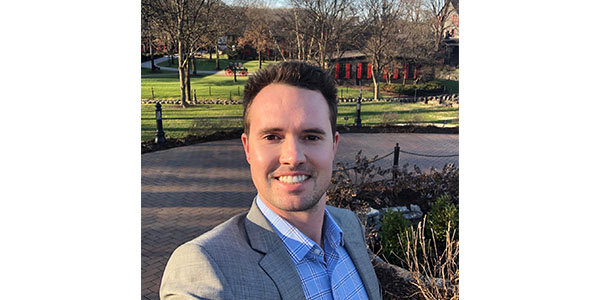 One of the most challenging part about sales is standing apart from the competition. At Gillco, we want our customers to know that we have the capability of doing so much more than just selling ingredients – we have a world-class customer service team, we can answer technical questions and our product offerings are the highest quality.
EJ Wheeler, Account Manager at Gillco Ingredients, is truly passionate about the company and sharing its potential with prospects and customers. Learn more about EJ's background and all he does for Gillco Ingredients.
Give us a little background on yourself! Where are you from? Hobbies? What did you do before Gillco?
I was born and raised right in Carlsbad, CA! I have a really close family and have been lucky enough to stay in North County SD where I still live with my wife, Shelby. Growing up I was always super active, loved being outside, and competing in sports. Everything from the beach to surfing to basketball have been hobbies I enjoy. I went to college at Cal Poly SLO and it was there that I actually had my first real interest in sales. I was in a class called Technical Sales where we had to do a sales pitch in front of the class to our professor on various technology products. I think the thrill of being on the spot and my competitiveness from sports transferred over into something I really love to do. Before Gillco I had been doing some technical recruiting and was looking for a change. Believe it or not I snuck into a college career fair and pretended to be a college student where Gillco was exhibiting and the rest is history!
How long have you been at the company? What does your new position at Gillco Ingredients entail?
I am now headed into my 8th year at Gillco and have been managing a collection of the West and Midwest regions. I think one of the unique things about Gillco in sales is how much responsibility we have from the start when it comes to our book of business. My title is Account Manager but we do everything from cultivating new relationships, to managing existing business, and to even deep diving with R&D to make projects come to life. I love getting to travel out across the U.S. to see customers and potential new clients. The number of different ingredient offerings we have are extensive and full spectrum to a variety of applications.
What does a typical day look like for you?
For me there really isn't a typical day. Everyday is always a little different which is part of what I love about being an Account Manager. Working with R&D and Purchasing departments on various projects could be one day while the next one might be traveling to see customers in person on the road and prospecting!
What are some of the challenges for you in this role?
I think for sales in general it is asking "what can I do to separate myself from the competition?". The idea of how we can stick out and make sure that customers want to work with us for years to come is something we really pride ourselves on at Gillco. We have a solid team from start to finish when it comes to our sales cycle. When we maintain our focus on our customers needs first we then really make the biggest impact.
What is the best part of your role/why do you like working at Gillco?
For me personally it is the thrill of selling a product (ingredients) that you can truly stand behind. Our ingredients play such an integral role in today's world, people need us. I also love traveling and being on the road while getting to see something new on each trip. I have always felt like this is a dream job for me and I am very lucky to be a part of Gillco!