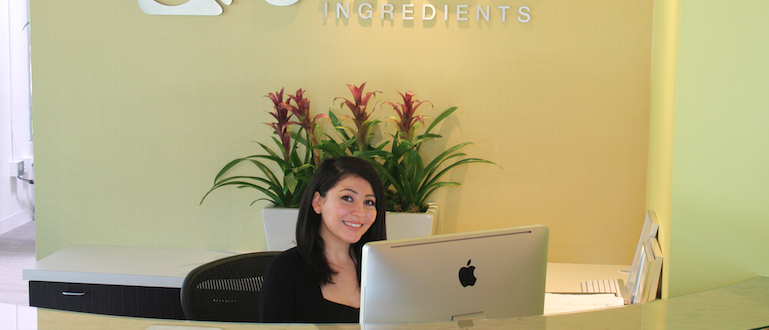 At Gillco, our goal is to make customer experience our #1 priority. All departments work together to ensure we're achieving that goal on a daily basis. Our Sales Support Specialist, Maria Troncoso, plays a crucial role in making sure our customers' sales requests are being fulfilled in a timely manner. Whether it's sending out sample requests, fielding inbound calls, or supporting the sales team, it's safe to say we would be lost without her!
Learn more about our stellar Sales Support Specialist, Maria.
1. Give us a little background on yourself! Where are you from? Hobbies? What did you do before Gillco?
I was born in Fresno but I've been living in San Diego since the age of three. My first job was being a general merchandise clerk for Ralphs. There, I worked in various departments including pharmacy, bakery, and my favorite—floral. As a florist , I was able to utilize my creativity to create custom floral arrangements and bouquets. I also got hands-on experience in sales and customer service which led to a new opportunity to work with Kendal, a major west coast flower company. My main duties at Kendal were sales and creating over-the-top flower displays for Costco. After years of being a florist, I decided to go in a different direction and pursue a career at Gillco.
When I'm not working, I enjoy spending time with my family and my lab, Sparky. Some of my hobbies include playing video games, badminton, and learning new songs on the guitar.
2. How long have you been at the company? What does your position at Gillco Ingredients entail? What does a typical day look like for you?
I've been with Gillco since February 2019. As a sales support specialist, I work on shipping out samples to our customers and help our sales reps with freight quotes and tradeshows. I also help the operations team by answering phone calls, taking leads and orders, and processing bill of ladings. Lastly, I make sure our office is all stocked up on supplies.
On a typical day, I start by checking to see if we have any leads that came in through our website. I check with the sales reps on the status of their customers' samples. I also answer and direct phone calls throughout the day. After lunch, I head into the office to package and ship out samples. I also keep track of our samples and office supplies inventory and place orders of what we need.
3. What are some of the challenges for you in this role?
Knowing how to prioritize and multitask is essential for my role in sales support. It's challenging when an urgent freight quote and sample request come up at the same time all while I'm on the phone with a customer. It's always interesting to see how smooth and fast things can get done when you remain calm and collected.
4. What is the best part of your role/why do you like working at Gillco?
The best part of my role is being able to help all of the departments at Gillco, as well as our customers.
I like working for Gillco because not only has it given me opportunities to learn and advance, but also because it has given me the privilege to work with the most professional, helpful, and kindest people.