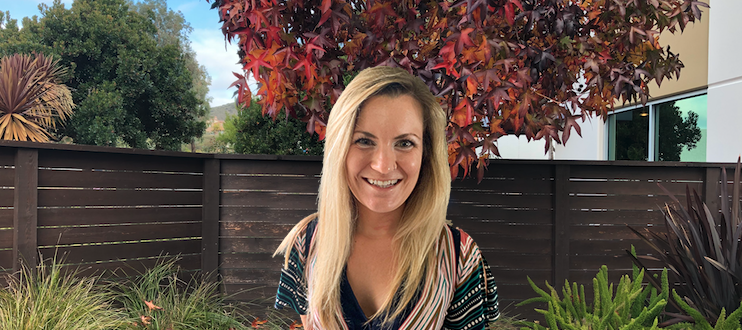 The main goal for our sales team at Gillco is to help provide ingredient solutions. In order to do this, we must build relationships with our customers and ultimately learn about the food or beverage product they are producing.
Katie Merrihew, Inside Sales Representative, communicates with companies nationwide to learn about ways she can help. She's eager to build relationships, offer creative solutions and help make the end application as successful as possible. On top of that, she has a smile on her face the entire time she's doing it!
Learn more about Gillco Ingredient's Katie Merrihew.
Give us a little background on yourself! Where are you from? Hobbies? What did you do before Gillco?
I grew up in the greater Minneapolis area, but I moved to sunny San Diego eleven years ago to attend Point Loma Nazarene University. I now live in Ocean Beach with my husband, Tyler, and our two dogs, Pawl and Pico. Some of my favorite things are making craft cocktails, going to live jazz, and hosting game nights. Before joining the Gillco team, I was a full time nanny for six years and got to hang out with some pretty amazing kids.
How long have you been at the company?
I've been with the company since January.
What does your position at Gillco Ingredients entail?
As the Inside Sales Rep, I manage accounts, connect with incoming leads, and look for new business. Inside Sales is a unique roll because I don't have one specific territory. I've had days where I speak with someone in Montreal and then have a call with a customer in Jamaica within the same hour!
What does a typical day look like for you?
I typically start my day with a list I made from the day before. I'll usually respond to any pressing emails first thing in the morning, then try to knock out as many calls as I can between 8:00-10:00. I'll spend the late morning sending follow up emails, pricing inquiries, or whatever pops up that needs to be addressed. Around 12:30 I take my dogs for a walk and eat some lunch on my patio to get some sunshine! When I get back, I power though the rest of my list for the day and make sure all my emails are read and addressed by the end of the day. I like to spend the last hour of each day making my list for the next day, which usually includes some prospecting for new clients.
What are some of the challenges for you in this role?
The biggest challenge I face is not getting overwhelmed with things! It's really important for me to make lists and use that as my schedule for the day. Not only does it keep me organized, it's a really good representation at the end of the day that I've accomplished what I wanted to get done.
What is the best part of your role/why do you like working at Gillco?
The favorite part of this job is that I get to talk with new people all the time. I've gotten to have some really wonderful conversations with people all across the country and am building new relationships constantly, and I love that!
I love working at Gillco because the culture of this company is amazing. Every person on the Gillco team is kind, respectful, and has a deep care for their work and the people they work with, and our leadership team is always encouraging and empowering us. This company is something truly special, and I'm grateful every day to be a part of it!