San Marcos, CA – Gillco Ingredients, an Azelis company, is now Azelis' leading specialty ingredient provider in the food & nutrition market in the United States. Azelis, a leading global innovation service provider in the specialty chemicals and food ingredients industry, announced on May 16, 2023 that it has acquired 100% of the shares of Gillco Ingredients ("Gillco"). Gillco allows Azelis to create a compelling portfolio and execute its growth strategy in the US food and nutrition industry, as well as the wider life sciences in North America.
Shelley Becht, formerly Vice President of Sales & Marketing at Gillco, has been named Managing Director, Azelis Food & Nutrition U.S. Shelley joined Gillco in 2015 as an Account Manager and quickly established herself as an invaluable asset to the company. She has been instrumental in developing and expanding relationships with suppliers and has onboarded significant new partners in recent years. In her position as Managing Director, Shelley will play a vital role in maintaining supplier partnerships and overseeing all operational departments of Gillco.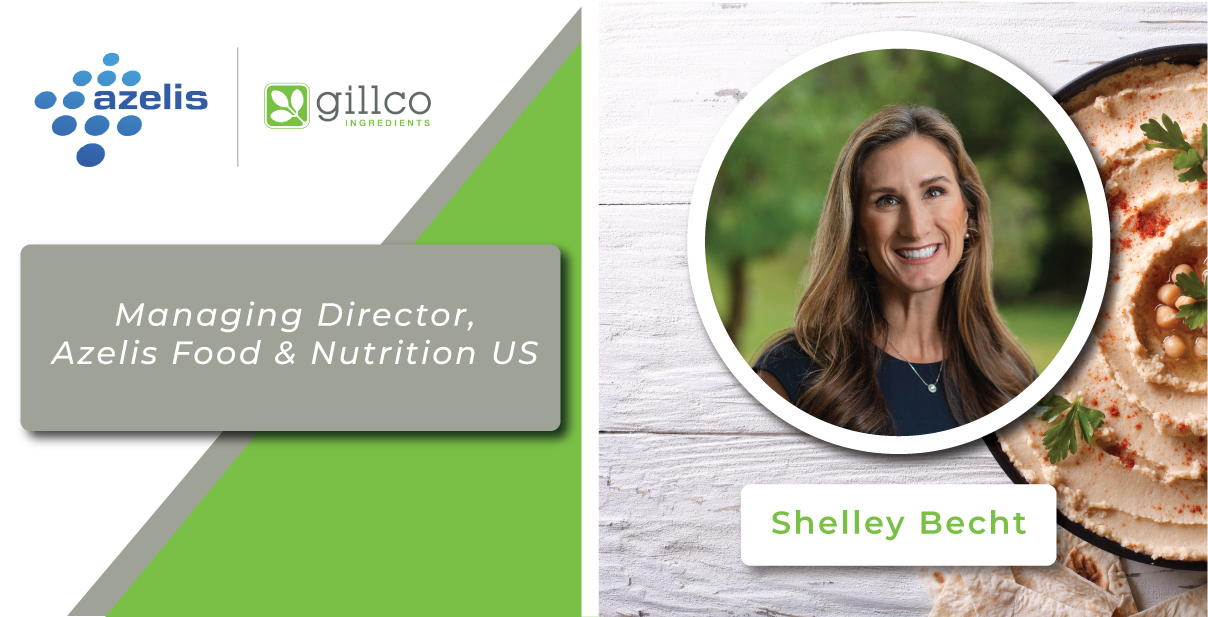 "It is a great privilege to lead Gillco under the Azelis US Food & Nutrition division during a time of rapid growth," Becht says. "With both the Gillco and Azelis team working together, I am surrounded by people who are motivated to make us the distributor of distinction. As always, our main priority is providing customers with exceptional and solutions-based service."
Bill Gillies, Azelis Americas Executive Advisor, comments: "I recognized Shelley's drive and passion for the food and nutrition space on day one. Under her sales leadership, Gillco has experienced YOY double-digit growth and made giant strides in supplier relations, all while maintaining a collaborative and family-like culture."
Simultaneously, Andy Ruona, formerly Chief Operating Officer, has been promoted to General Manager. Andy started at Gillco in 2014 and has since transformed the company's operational efficiency. He has ensured Gillco has food safety standards and practices that meet and exceed our customers' expectations. With the backing of Azelis, he will continue to play an essential role at Gillco.
Vuk Milojkovic, Azelis Americas Managing Director, comments: "In Shelley's new role as Managing Director, Azelis F&N, she will assume overall leadership of Gillco and will lead commercial integration activities with legacy Azelis teams in order to maximize expected synergies. Andy Ruona will assume the role of General Manager, continuing to lead operations at Gillco. I am looking forward to working with Bill, Shelley and Andy in their new roles as we continue to deliver growth for our principals in the F&N space."
About Gillco
Southern California based Gillco (@gillcoingredients), an Azelis company, has redefined the concept of wholesale ingredient distribution. They have partnered with some of the most reputable and innovative ingredient manufacturers in the world to put together an incredible line of label-friendly, sustainable, and organic food solutions.
Gillco is strategically positioned with warehouses nationwide to offer solutions-oriented ingredients quickly and without large minimum orders. Their extensive portfolio includes: clean-label antimicrobials, antioxidants, cocoa and chocolate, edible oils, emulsifiers, enzymes, fibers, gums, proteins, organic and low-calorie sweeteners and starches.
With 40 years of ingredient distribution, Gillco prides themselves on extraordinary service, dedicated technical sales team and setting the gold standard for high quality ingredients. For more information, visit www.gillco.com.