Antioxidants are used in the food and beverage industry to keep products fresh and safe for consumers to eat. At Gillco, we are proud to source Corbion's line of innovative and label friendly antioxidant offerings to our customers.
Antioxidants can be particularly helpful in meat applications, whether it's fresh ground beef, sausages, or deli meats. They can delay rancidity and oxidation, stabilize product color (ex: keep meat staying red for longer), and extend shelf-life with spoilage inhibition*.
One key factor for many consumers in fresh meat is color. Through propriety research, the Corbion Insights team has found that many consumers see fresh meat that has begun to brown as unsafe to consume. This is a great opportunity for processors to implement a quality antioxidant solution that can retain that appealing bright color and flavor in their products by delaying oxidation.*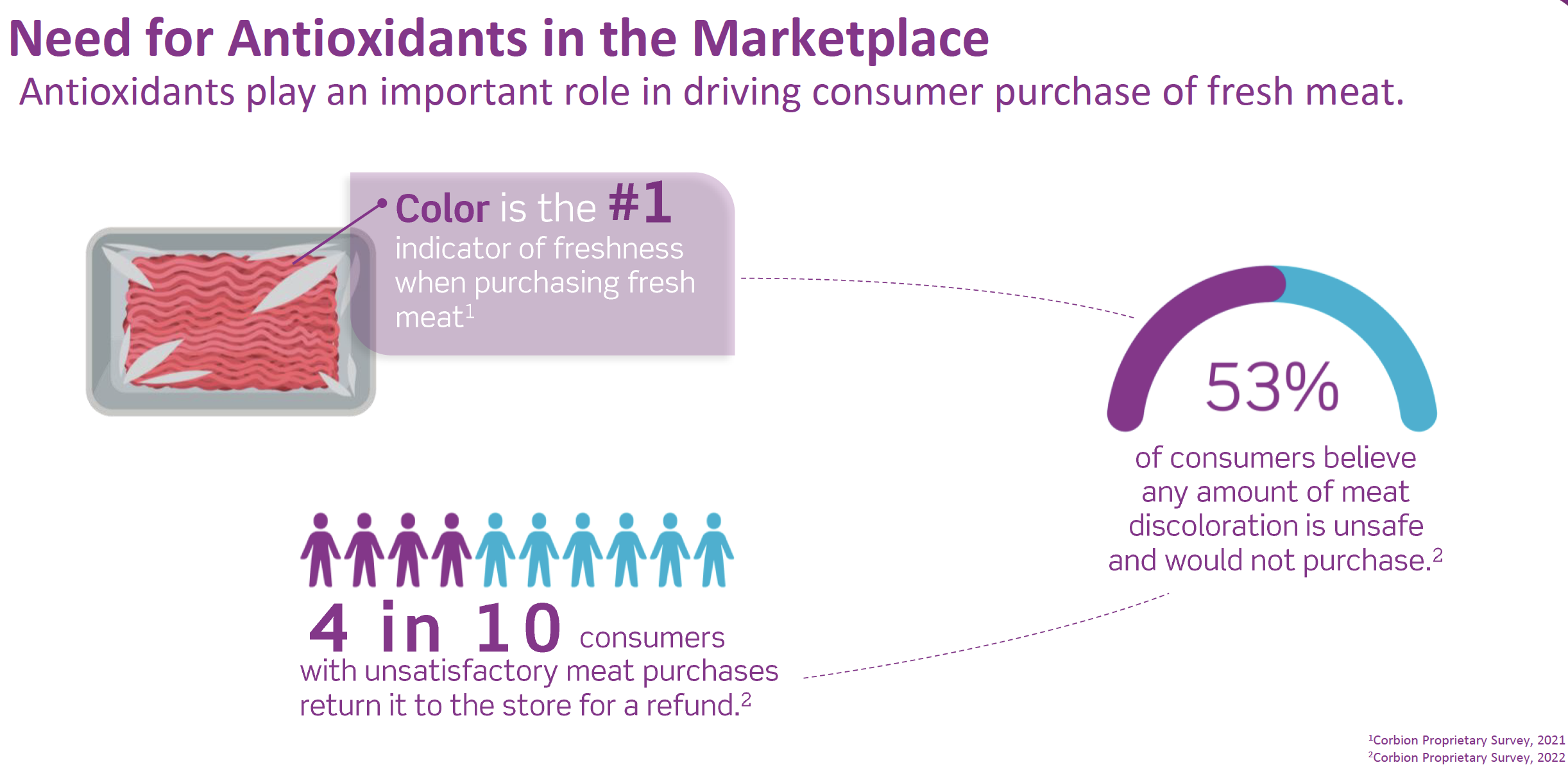 Corbion Case Studies
Our line of Corbion antioxidants provide highly potent, consumer-friendly solutions for effective plant-based, antioxidant activity, delaying rancidity and color stabilization.


*Corbion's Verdad Powder AC34 preserves the bright red color of fresh ground beef, protecting it from oxidation and light-induced fading.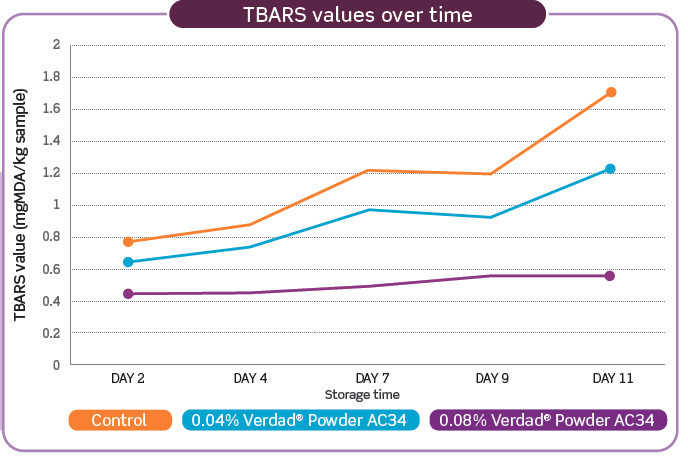 *Corbion's Verdad Powder AC34 extends the shelf life of ground beef by inhibiting lipid oxidation and delaying subsequent development of rancid off-notes and flavors. Here, samples were taken from Verdad Powder AC34 treated or untreated overwrap packaged beef samples stored in a lighted display case at 3 degrees Celsius, analyzed over an 11-day time course for the presence of malondialdehyde, a marker of lipid oxidation.

*When compared to market reference products in oven roasted turkey, a mild flavored product, Origin Powder RO2 had greater overall acceptability among sensory panelists. Corbion's rosemary is sourced from Morocco and is especially effective at inhibiting rancidity development and subsequent off-flavor development.


*Pairing an antioxidant with a buffered vinegar helps you extend shelf life by considering both
microbial spoilage and product oxidation.
Our Antioxidant Portfolio
We offer solutions to effectively deliver functionality without adding anything to the ingredient label that consumers find off-putting. Our offerings include acerola (cherry), celery, rosemary and vinegar.
| Product | Description | Recommended Applications |
| --- | --- | --- |
| Verdad® Powder AC34 | A powder form of natural concentrated acerola juice and contains magnesium hydroxide as an acidity regulator | Fresh ground beef/pork |
| Verdad® Powder CS30 | A powder form of celery powder and salt | Bacon, deli meats, hot dogs, and cooked, fresh or fermented sausages |
| Origin™ Powder RB500 | A clean-label powder product based on: green tea, acerola and sea salt | Fresh ground beef |
| Verdad® Avanta® F100 | An optimized natural powder product, based on vinegar (white distilled) and natural flavor | Fresh ground beef/pork |
| Verdad® Avanta® F100 | An optimized natural powder product, based on vinegar (white distilled) and natural flavor | Fresh ground beef/pork |
Interested in sampling antioxidants in your product? Reach out today for more product information and samples!
*Article Source: Corbion – Origin™ Antioxidants Harnessing nature's freshness solutions
*Article Source: The heart's connected to the wallet
©2022 Corbion. All rights reserved. No part of this publication may be copied, downloaded, reproduced, stored in a retrieval system or transmitted in any form by any means, electronic, mechanical, photocopied, recorded or otherwise, without permission of the publisher. No representation or warranty is made as to the truth of accuracy of any data, information or opinions contained herein or as to their suitability for any purpose, condition or application. None of the data, information or opinions herein may be relied upon for any purpose or reason. Corbion disclaims any liability, damages, losses or other consequences suffered or incurred in connection with the use of the data, information or opinions contained herein. In addition, nothing contained herein shall be construed as a recommendation to use any products in conflict with existing patents covering any material or its use.