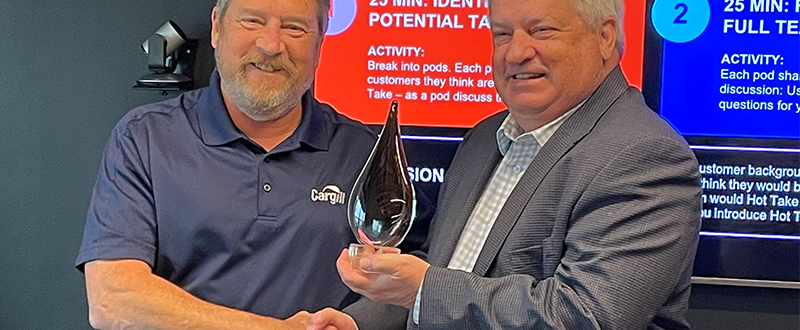 San Marcos, CA – Cargill's Food Ingredients & Bioindustrial business has awarded its National Partner Distributor, Gillco Ingredients, with the 2020 Cargill FIBI Distributor of the Year Award. Gillco Ingredients has been a primary nationwide distributor for Cargill's Cocoa and Chocolate, Starches, Sweeteners, Texturizing Solutions and Edible Oils businesses for over twenty years.
"Nothing about the Covid-19 pandemic has been predictable, but throughout it all we've continued to focus on transparent communication with both our suppliers and customers", said Mike Montgomery, President of Gillco Ingredients. "In the past, we've been recognized for being customer centric, which will remain at the forefront of our core values. Today, and for many more days to come, we are celebrating every single employee at Gillco for playing a role in the achievement of this award. The support and opportunities Cargill has bestowed on us are teeing us up for extraordinary years to come."
"Gillco Ingredients achieved the highest score on Cargill FIBI's annual Distributor scorecard, which validated their continued growth in our specialties business year over year, while consistently demonstrating partnership behavior in every way", stated Tom Burns, Cargill's Distribution Sales Leader.
"We are humbled by this award and have never been more certain about our partnership with Cargill", said Mike Montgomery, President of Gillco Ingredients.
About Gillco
Southern California based Gillco Ingredients has redefined the concept of wholesale ingredient distribution. They have partnered with some of the most reputable and innovative ingredient manufacturers in the world to put together an incredible line of label-friendly, sustainable and organic food solutions.
Gillco is strategically positioned with a dozen warehouses nationwide to offer our solutions-oriented ingredients quickly and without large minimum orders. Their extensive portfolio includes: clean-label antimicrobials, antioxidants, cocoa and chocolate, edible oils, emulsifiers, enzymes, fibers, gums, proteins, organic and low-calorie sweeteners and starches.
With 36 years of ingredient distribution, Gillco prides themselves on extraordinary service, dedicated technical sales team and setting the gold standard for high quality ingredients. For more information, visit www.gillco.com.
About Cargill
Cargill's 155,000 employees across 70 countries work relentlessly to achieve our purpose of nourishing the world in a safe, responsible and sustainable way. Every day, we connect farmers with markets, customers with ingredients, and people and animals with the food they need to thrive. We combine 155 years of experience with new technologies and insights to serve as a trusted partner for food, agriculture, financial and industrial customers in more than 125 countries. Side-by-side, we are building a stronger, sustainable future for agriculture. For more information, visit Cargill.com and our News Center.