We're pretty lucky that we have access to lots of chocolate and cocoa samples here at the office from our manufacturing partner, Cargill. We have a sample inventory so that our customers can test those samples in their product formulas during the research and development process.
It's also important for us to know what our products look, feel and taste like so we know the ins and outs of what we're sourcing. If our customers have a question regarding our ingredients, we take pride in knowing the answer.
We had a few extra samples laying around and thought it would be fun to use some of our cocoa powder and chocolate in a healthy brownie recipe! We found inspiration from this recipe from the Ambitious Kitchen to create a no-bake, healthy treat.

The dark chocolate that we used to melt down and pour on the top of the brownie is our Peter's Marbella 80% dark chocolate. It's a super dark bittersweet chocolate blended with European-style low roast liquor and aged to produce a deep, balanced chocolate flavor, made with pure vanilla.
The cocoa powder we used for the bars is our Gerkens Sienna 10/12 cocoa powder. It's a standard fat cocoa powder, which is moderately alkalized to achieve a deep reddish brown color and rich fudge flavor.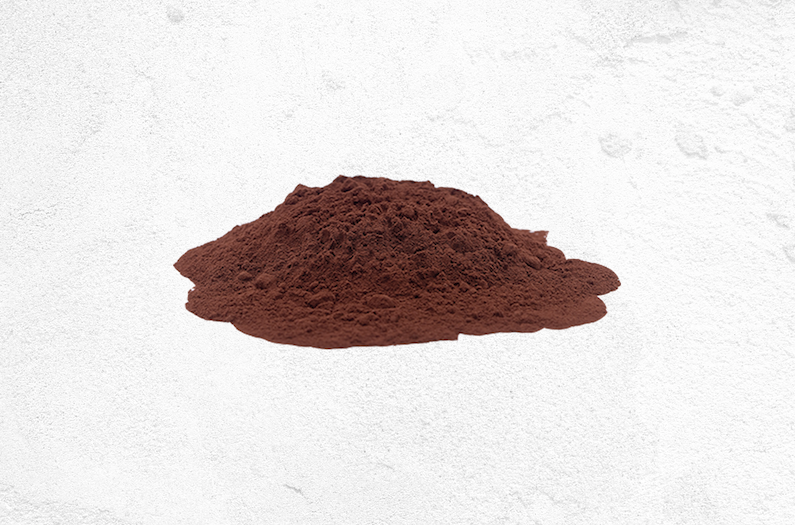 We hope you enjoy this super simple, delicious recipe!
INGREDIENTS
For the bars:
• 1 cup packed pitted Medjool dates
• ¼ cup raw walnuts
• ¼ cup raw pecans halves
• ½ cup shelled pistachios, divided
• ¼ cup unsweetened shredded coconut
• 1 tablespoon chia seeds
• 3 tablespoons unsweetened cocoa powder
• 1 tablespoon melted virgin coconut oil
• 1 teaspoon vanilla
• ¼ teaspoon sea salt
• ¼ cup goji berries (or dried cherries)
• 1 tablespoon warm water, if necessary
For the topping:
• 1.5 ounces Marbella dark chocolate
To garnish:
• 1 tablespoon shelled pistachios
• 1 tablespoon goji berries
• 1 tablespoon chopped pecans
• Maldon sea salt, for sprinkling on top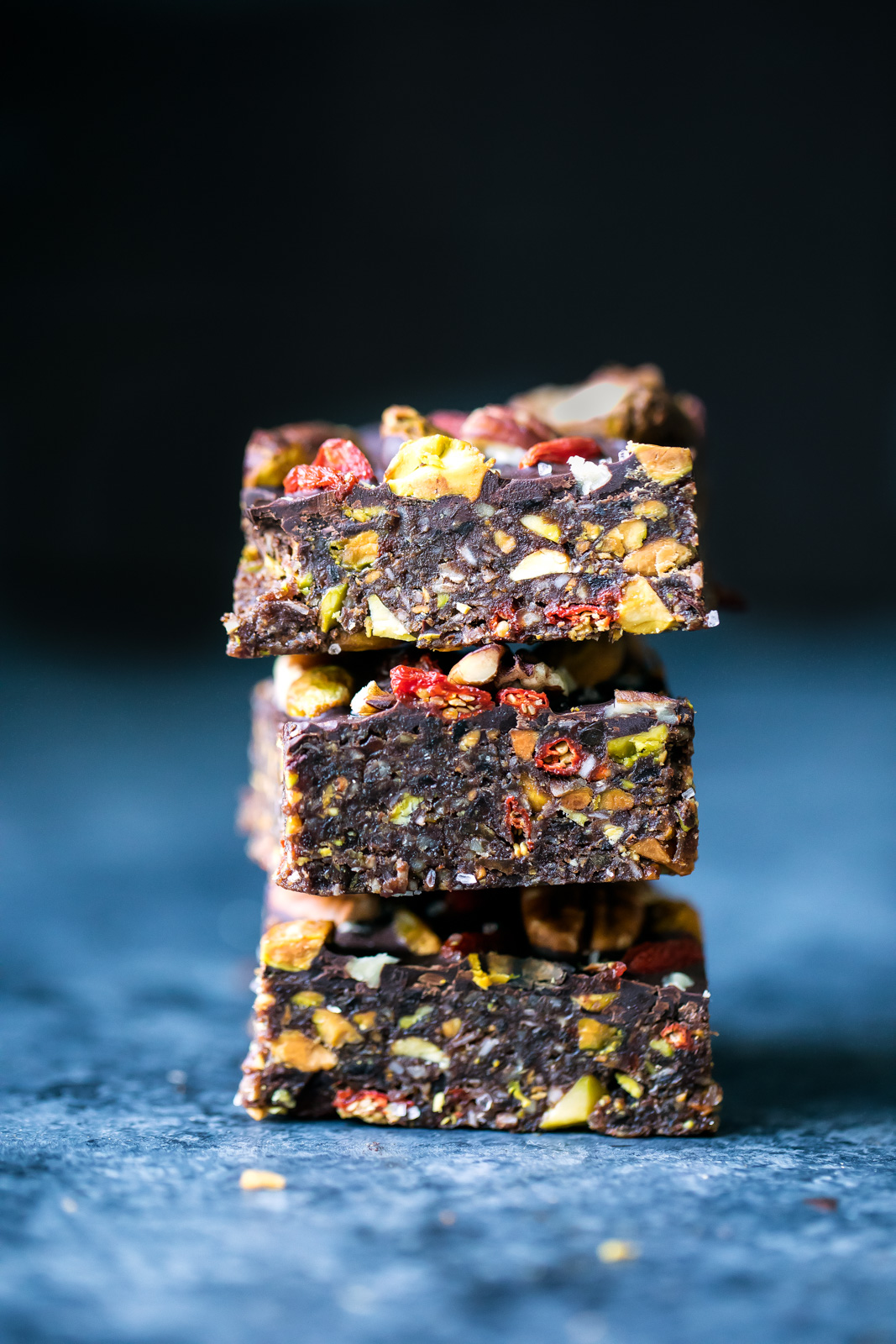 INSTRUCTIONS
1. Add dates, walnuts, pecans, only ¼ cup of pistachios to the bowl of a food processor. Process until chunky. Next add in unsweetened shredded coconut, chia seeds, cocoa powder, coconut oil and vanilla extract. Process again until mixture is chunky and slightly clumping. If mixture is dry, add 1-2 tablespoons of warm water.
2. Next add in remaining ¼ cup pistachios and goji berries and pulse again a few times until pistachios are slightly chunky. Add mixture into a 8×4 inch loaf pan lined with parchment paper, pressing evenly towards the sides of the pan.
3. Add dark chocolate to a small saucepan and place over low heat until melted. You can also microwave in 30 second increments, stirring in between until chocolate is fully melted and smooth. Pour over the bars, tilting pan so that the chocolate covers the bars evenly. Garnish the bars with 1 tablespoon of the following: pistachios, goji berries and crushed pecans.
4. Place bars in the freezer for 30 minutes-1 hour to harden. Once ready to serve, sprinkle with Maldon sea salt then cut into 8 squares. Store safely covered in the freezer for up to 1 month. Enjoy!
If you have questions about any of our chocolate or cocoa products, please reach out to us – we're happy to help.