The countdown is on – 12 days until one of the best holidays of the year! I don't know about you, but with all of the amazing cooks in my family, I feel the pressure to put my best foot forward and make something that turns out delicious (hopefully!). You can't go wrong with the classic Thanksgiving side dishes, but if you want to get creative, we've gathered up some tasty side dishes to impress your guests.
Jalapeno-Green Chile Spoon Bread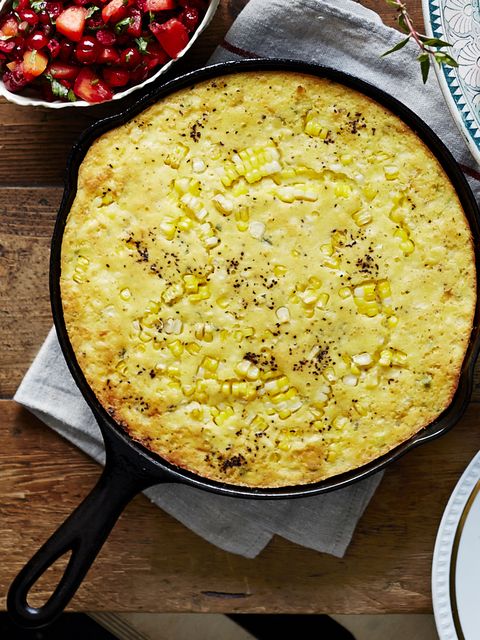 Ingredients
• 2 tbsp. vegetable oil
• 1 c. stone-ground yellow cornmeal
• 1/2 c. all-purpose flour
• 2 tbsp. sugar
• 2 tsp. baking powder
• 1 tsp. salt
• 1/2 tsp. freshly ground pepper
• 3 c. fresh yellow corn kernels
• 1 small jalapeño
• 1 1/4 c. buttermilk
• 1 c. cream
• 3 large eggs
• 1 can mild green chiles
Directions
1. Preheat oven to 375 degrees F. Coat bottom and sides of a 10-inch cast-iron skillet with oil, and place skillet in oven. Stir together cornmeal and next 5 ingredients in a large bowl; toss in corn and jalapeños. Make a well in center of mixture. Whisk together buttermilk and next 3 ingredients. Add buttermilk mixture to cornmeal mixture, stirring just until dry ingredients are moistened. Spoon into prepared skillet.
2. Bake at 375 degrees F for 40 to 45 minutes or until golden brown and set.
Roasted Sweet and Sour Brussel Sprouts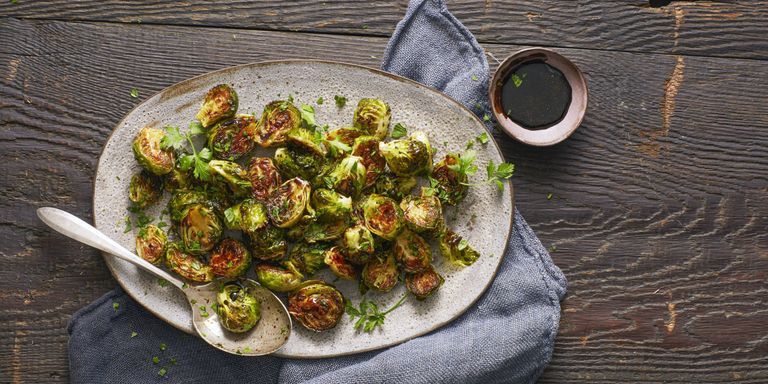 Ingredients
• 3 lb. Brussels sprouts, trimmed and halved
• 2 tbsp. olive oil
• 1/4 c. lower-sodium soy sauce or tamari
• 1/4 c. balsamic vinegar
• 1/4 c. brown sugar
• 1/2 tsp. ground ginger
• 1/4 c. loosely packed fresh parsley leaves, finely chopped
Directions
1. Preheat oven to 450 degrees F. On 2 large rimmed baking sheets, toss sprouts with oil; spread out in single layers. Roast 20 to 25 minutes or until deep golden brown, stirring and rotating sheets on oven racks halfway through.
2. Meanwhile, in 2-quart saucepan, heat soy sauce, vinegar, brown sugar, ginger, and 1/4 teaspoon black pepper to boiling on medium-high. Reduce heat to maintain simmer; simmer 12 to 15 minutes or until syrupy. Remove from heat. Toss sprouts with parsley and enough sauce to coat. Serve remaining sauce on the side.

Ingredients
• 2 oil-packed anchovy fillets (optional)
• 1 garlic clove, thinly sliced
• ¼ cup fresh lemon juice
• 2 tsp. Dijon mustard
• Kosher salt
• 1 large egg yolk or 2 Tbsp. mayonnaise
• ½ cup extra-virgin olive oil
• 3 Tbsp. grated Parmesan, plus more shaved for serving
• 2 medium heads of broccoli (about 1½ lb.)
• ¼ head of savoy or Napa cabbage
• Finely grated lemon zest (for serving)
• Freshly cracked black pepper
Directions
1. Using the side of a chef's knife, mash anchovies, if using, and garlic on a cutting board until a smooth paste forms. Transfer paste to a large bowl and whisk in lemon juice, mustard, and a big pinch of salt. Add egg yolk (or mayonnaise) and whisk until smooth. Gradually add oil, whisking constantly until emulsified. Whisk in 3 Tbsp. grated Parmesan.
2. Trim woody ends from broccoli stems, preserving as much stem as possible. Peel any thick stems to expose tender inner cores. Cut off florets as close to the dark green flowers as possible and break into bite-size pieces. Add to bowl with dressing. Starting at the floret ends of the stems, slice very thinly crosswise and add to bowl. Thinly slice cabbage crosswise (you should have about 2 cups) and add to bowl with broccoli. Toss until broccoli and cabbage are combined and evenly coated with dressing; season with salt. Let sit 10 minutes.
3. Top salad with shaved Parmesan, some lemon zest, and a few healthy grinds of pepper.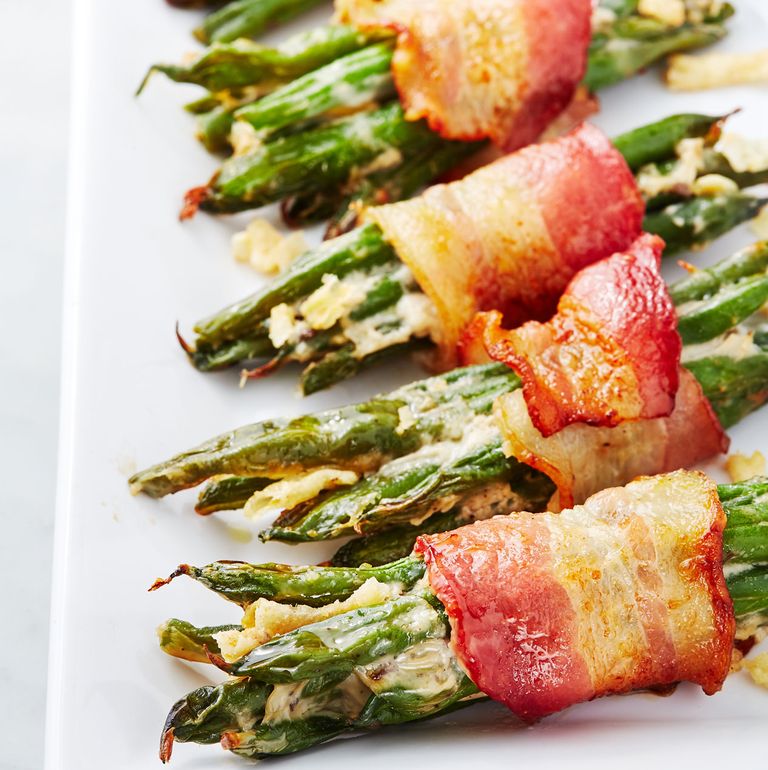 Ingredients
• 1 c. cream of mushroom soup
• 1/2 c. milk
• 1/2 tsp. soy sauce
• 1/4 tsp. freshly ground black pepper
• 2/3 c. French's fried onions
• 3 1/2 c. trimmed green beans, blanched and cooled
• 1 package bacon
Directions
1. Preheat oven to 350° and grease a 9″-x-13″ baking dish.
2. In a large mixing bowl, stir together soup, milk, soy sauce, pepper, and French's fried onions. Add green beans and toss to combine.
3. Grab small bundles of green beans and wrap with a strip of bacon, placing each in the baking dish snugly, seam side down.
4. Cover with foil and bake until the bacon is fully cooked, 37 to 40 minutes.

Ingredients
• 8 tablespoons unsalted butter or 6 tablespoons ghee
• 2 pounds small russet potatoes, peeled, very thinly sliced
• Flaky sea salt
• Freshly ground white or black pepper
Directions
1. Preheat oven to 400°. If using unsalted butter, heat in a small saucepan over medium, skimming off white foam that rises to the surface, until butter is melted and milk solids have settled to the bottom of the pan. Spoon clear (clarified) butter into a small bowl. Discard milk solids.
2. Heat 1 Tbsp. clarified butter (or ghee) in a medium skillet, preferably ovenproof nonstick or cast iron (you will need to cover it; use a baking sheet if you don't have a lid), over medium-high and add half of potatoes, tossing to separate slices and coat in butter. Cook, tossing often, until some of the slices are browned around the edges, about 5 minutes. Transfer to a large bowl. Repeat with another 1 Tbsp. butter and remaining potatoes; transfer to same bowl. Let cool slightly.
3. Arrange some potato slices in an overlapping pattern in a single layer in bottom of skillet. Season with salt and pepper and drizzle with some of the remaining clarified butter. Repeat with remaining potatoes, building a layer at a time, seasoning with salt and pepper and drizzling with clarified butter as you go. When you are finished layering the potatoes, pour any remaining clarified butter over top and cover skillet.
4. Cook potatoes over low heat until barely tender, 10–15 minutes. Uncover skillet and transfer to oven. Bake until potatoes are very tender in the middle (if you have a cake tester, that's a good way to check, or use the tip of a paring knife) and browned and crisp around the edges, 25–30 minutes. Let cool slightly.
5. Slide a rubber spatula underneath potato cake to loosen, then invert onto a platter. Season with more salt.
We hope you enjoy!