Last year alone, plant-based food sales increased 20%, totaling in $3.3 billion. Yes, that's BILLION with a B. This trend has infiltrated various different end applications in categories such as beverage, snack, dairy and more. As a wholesale ingredients distributor, we adapt to market trends to ensure our ingredients portfolio meets the needs of the most innovative companies.
We have noticed a big area of growth in the snack bar category. The total snack bar market is expected to exceed $8.5B in 2020, (4.4 percent compound annual growth rate)*. Sales of energy and fruit bars are booming, with a year-over-year growth rate of more than 240 percent between 2011 and 2016*. We work with many companies that produce these snack bars, with a particular focus on plant-based protein bars. These bars incorporate ingredients that we source such as functional sweeteners, chicory root inulin, cocoa powder, pea protein, soy protein, coconut oil, organic tapioca syrup, sunflower lecithin, chocolate and more.
We love trying the offerings in the market and have come up with a list of our favorites!
1. 22 Days Nutrition, Fudge Brownie


Ingredients: Organic brown rice protein, organic tapioca fiber, organic tapioca syrup, organic chocolate liquor, organic virgin coconut oil, organic alkalized cocoa powder, organic vegetable glycerin, natural flavors, sunflower lecithin, organic stevia.
2. Rise Bar, Lemon Cashew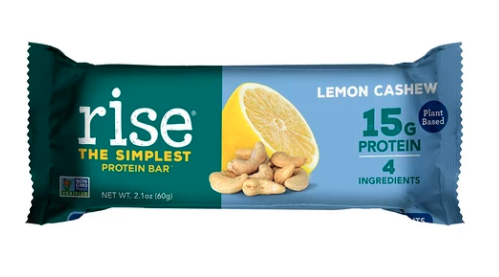 Ingredients: Cashews, Coconut Nectar, Pea Protein Isolate, Lemon Extract
3. GOMACRO, Mocha Chocolate Chip


Ingredients: Organic Brown Rice Syrup, Organic Almond Butter, Organic Protein Blend (Organic Sprouted Brown Rice Protein, Organic Pea Protein), Organic Puffed Brown Rice, Organic Sunflower Seed Butter, Organic Fair-Trade Chocolate Chips (Organic Coconut Sugar, Organic Cocoa, Organic Cocoa Butter), Organic Cacao Powder, Organic Coffee, Organic Coconut Sugar, Organic Vanilla Flavor.
4. Larabar, Almond Butter Chocolate Brownie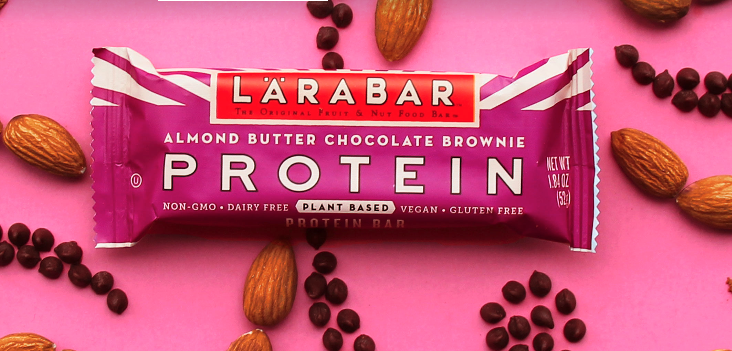 Ingredients: Dates, almonds, pea protein, semisweet chocolate* (unsweetened chocolate, cane sugar, cocoa butter, vanilla extract), cocoa powder*, sea salt
5. Orgain, Organic Protein Bar


Ingredients: Orgain Organic Protein Blend™ [Organic Brown Rice Protein, Organic Protein Crisps (Organic Pea Protein, Organic Rice Flour), Organic Ground Chia Seeds], Organic Tapioca Syrup, Organic Tapioca Fiber, Organic Chocolate Chips (Organic Cane Sugar, Organic Cocoa Liquor, Organic Cocoa Butter, Organic Vanilla), Organic Almonds, Organic Erythritol, Organic Vegetable Glycerin, Natural Flavor, Sea Salt, Sunflower Lecithin.
Looking for clean label ingredients for your plant-based application? Ask us about our offerings today.
Sources:
*Euromonitor Passport, April 2017