By this point, you've probably heard of kombucha. Maybe you've seen it in your local grocery store. Maybe you've tried it. Maybe you're hooked and drink it every week (guilty!). The reality is, the kombucha industry is on the rise and it's not slowing down anytime soon. You've likely seen brands like GT's, Rowdy Mermaid, Upstart Kombucha, Kevita, Lenny Boy Brewing Co, and Health-Ade as well as newer companies that are starting to emerge.
What is Kombucha?
Kombucha is a fermented and sweetened beverage often made with black or green tea. It is classified as a functional beverage, which means that it is a non-alcoholic drink containing vitamins, amino acids or other nutrients associated with health benefits. So, how is this carbonated, tangy, yet sweet beverage made?
It all starts with the SCOBY. SCOBY actually stands for symbiotic culture of bacteria and yeast. It almost looks like a pancake-shaped…jelly-fish? Regardless of what it looks like, the SCOBY is the key ingredient that makes kombucha what it is.
The SCOBY gets put into a sweetened tea mixture. It is left to ferment at room temperature for 1-3 weeks, and then bottled for 1-2 weeks to contain released carbon dioxide (CO2) and boost carbonation.
Lastly, the kombucha is bottled and refrigerated to slow down the carbonation and fermentation processes.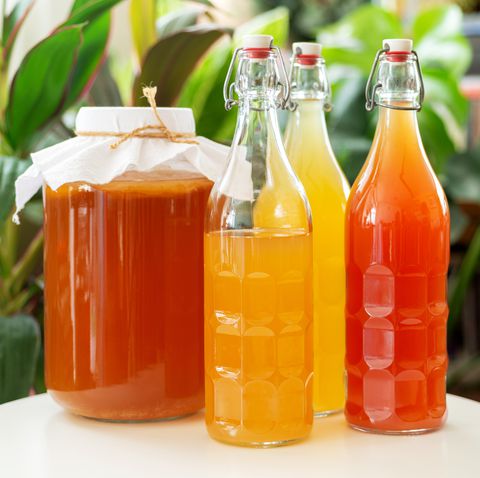 How is Kombucha sweetened?
You'll find that some kombuchas are sweeter than others (ranging anywhere from 2-9 grams of sugar per bottle) but mixing a sweetener into the tea really mellows out the super tart flavor that is created throughout the fermentation process. There are quite a few options when it comes to what ingredient is used to sweeten kombucha – conventional sugar, organic sugar, brown sugar, raw sugar, honey, agave, or sugar substitutes.
At Gillco, we're a little biased. We source organic evaporated cane juice (aka organic sugar) to many kombucha companies that you see on your grocery store shelves. Our Big Country organic sugar is made from 100% certified organic sugarcane crop. The cane is harvested, cut by farmers, and taken to the mill where the juice is extracted and crystallized. Since it is far less processed than traditional sugars, it retains its natural flavor and blonde color. If you're a kombucha drinker, chances are you've tasted our organic sugar!
We take pride in working with companies nationwide and becoming their source for organic sugar. Reach out today to talk to one of our product specialists.