Heading to any upcoming Halloween parties? We found some fun and creative Halloween cookie recipes that taste delicious and also bring some spirit to the dessert table!
1. 5-Ingredient Monster Oreo Truffles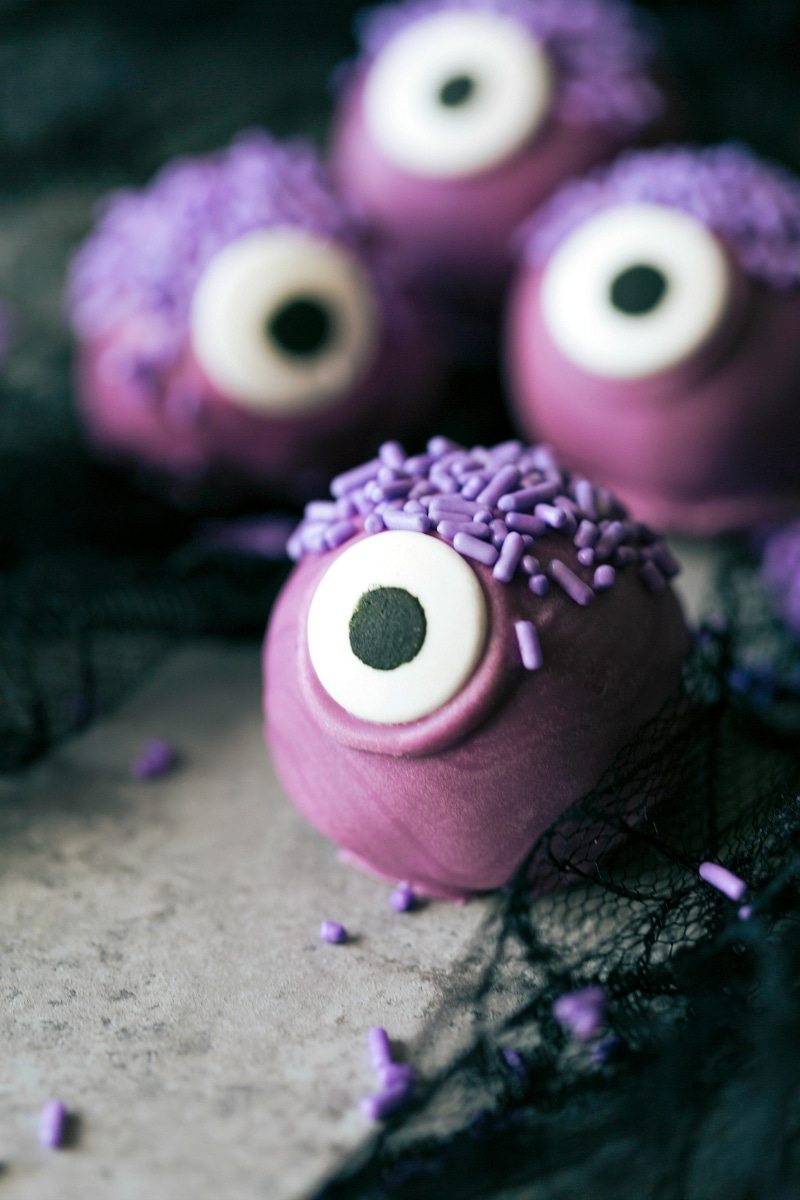 *Picture via https://www.chelseasmessyapron.com/
Ingredients
• 1 package (16 ounces) regular Oreos
• 1 package (8 ounces) cream cheese at room temperature
• 1 bag (12 ounces) Lavender Candy Melts
• Light purple sprinkles
• 18-20 Large Edible eyes
• Optional: vegetable oil you might want to add some to make the candy melts easier to work with
Instructions
1. Pulse the full oreos (no need to separate cream from cookie) in a food processor or blender until it is in crumbs.
2. Using a hand held mixer, beat the Oreos and cream cheese together until well combined.
3. Roll the mixture into balls.
4. Chill the balls, covered tightly, for an hour in the fridge.
5. Once the balls are chilled, melt the candy melts according to package directions. (This is technically another ingredient, but you may need a teaspoon (or a few) of vegetable oil to get the chocolate thin enough to dip in. Every chocolate is a little different so if needed, I'll just add the oil slowly until it coats the oreo truffles well.)
6. Place a ball on a fork and then spoon the melted chocolate evenly over the ball. Tap the fork holding the ball to remove excess chocolate.
7. Slide the ball carefully onto parchment paper and immediately (it hardens quickly) press and hold an edible eye into the center.
8. Sprinkle the sprinkles on top of the ball.
9. Allow to dry.
2. Spider Cookies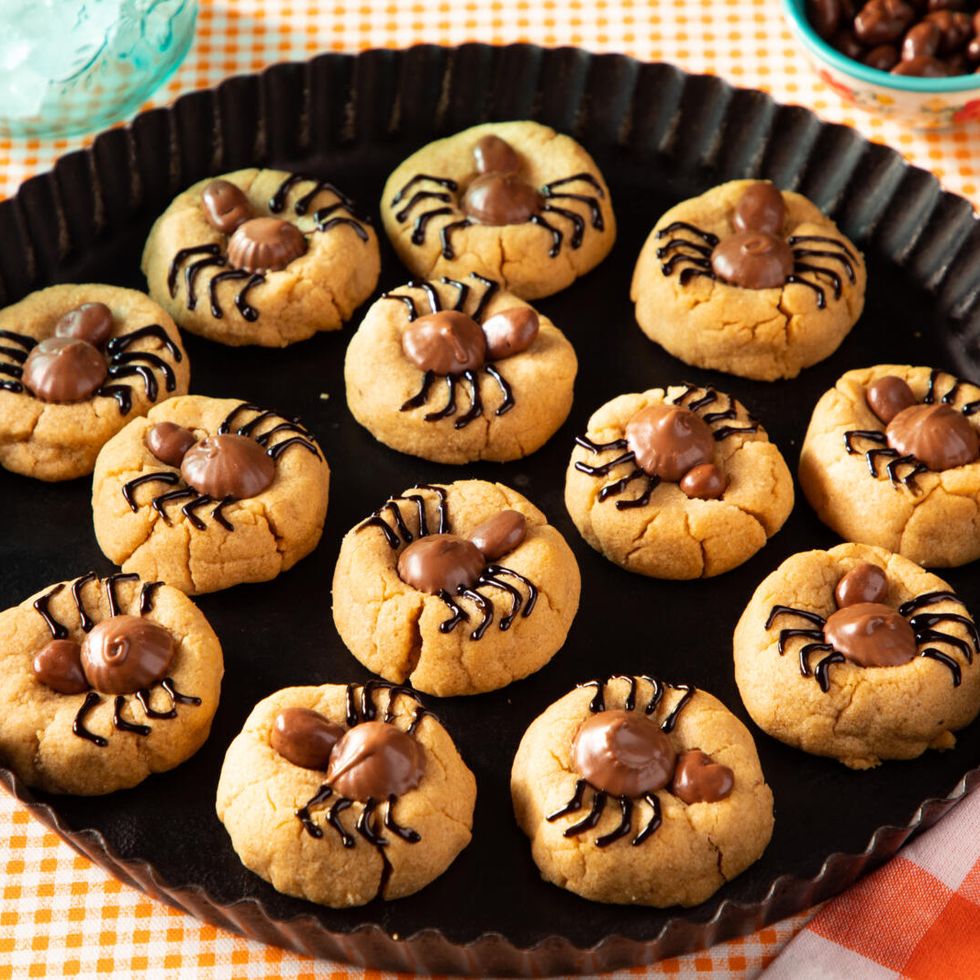 *Picture via Will Dickey – https://www.thepioneerwoman.com/
Ingredients
• 1 c. creamy peanut butter
• 1/2 c. vegetable shortening
• 1/4 c. butter, softened
• 1/2 c. granulated sugar (we love using Big Country Organic Cane Sugar)
• 1/2 c. packed light brown sugar (we love using Big Country Organic Light Brown Sugar)
• 1 large egg
• 1 tsp. vanilla extract
• 2 c. all-purpose flour
• 1 tsp. baking soda
• 1/2 tsp. salt
• 20 miniature peanut butter cups, such as Reese's Mini's
• 20 chocolate covered peanuts or raisins
• Black or brown writing gel icing
Instructions
1. Preheat oven to 350˚.
2. Beat together the peanut butter, shortening, butter, and both sugars in a large bowl with an electric mixer, 4 to 5 minutes, until fluffy and combined. Add the egg and vanilla extract and beat until combined.
3. Whisk together the flour, baking soda, and salt in a separate bowl. With the mixer on low speed, add the flour mixture to the peanut butter mixture and beat until well mixed.
4. Scoop the dough into 20 even portions (about 2 packed tablespoons each) and roll into balls. Flatten each ball slightly and arrange the cookies 2 inches apart on parchment paper-lined baking sheets. Press the center of each cookie with your thumb. Bake for 8 to 10 minutes, rotating the cookie sheets halfway through.
5. As you pull the cookies out of the oven, gently place 1 Reese's Mini just barely below the center of each cookie, allowing the warm cookie to melt the chocolate "body" into place. Then, very gently press 1 chocolate covered raisin or peanut "head" right above the Reese's Mini on each cookie. Allow the cookies to cool for 5 minutes on the baking sheets. Transfer the cookies to a wire rack to cool completely.
6. Once the cookies are cool, use the gel writing icing to draw 8 legs from the body of each spider. Allow the icing to set and enjoy!
3. Gooey Monster Cookies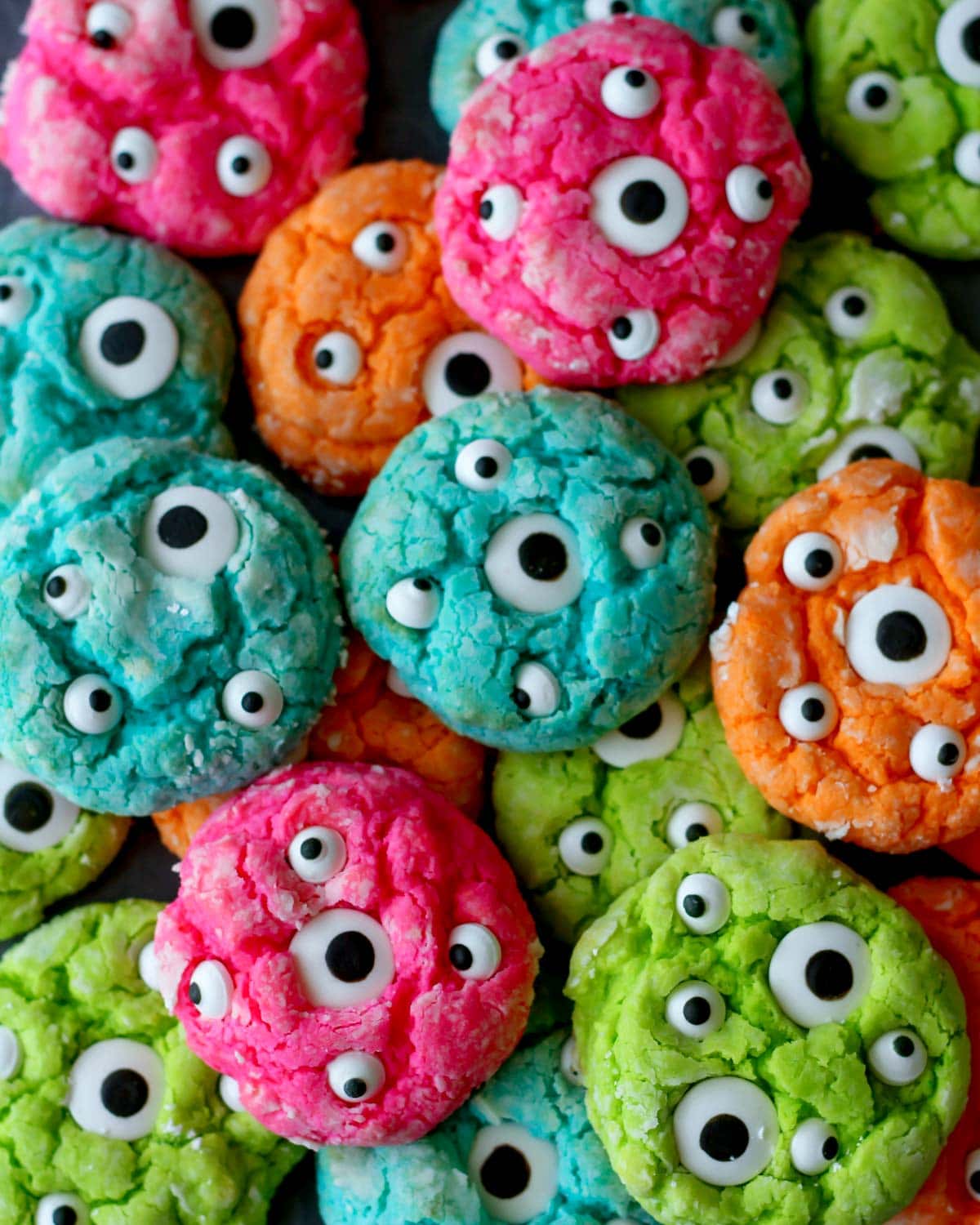 *Picture via https://lilluna.com/
Ingredients
• 1 box white cake mix
• 1/2 c butter softened
• 1/2 tsp vanilla extract
• 8 oz cream cheese softened
• 1 egg
• Powdered sugar (we love using Big Country Organic Powdered Sugar)
• Food coloring I used NEON food coloring to make them more vibrant
• Candy eyeballs
Instructions
1. Beat butter, vanilla, egg and cream cheese until fluffy.
2. Mix in cake mix. Divide batter into bowls for the amount of colors you want.
3. Add food coloring to each individual bowl and mix until all combined.
4. Chill for 30 minutes.
5. Roll into balls and dip in a bowl of powdered sugar.
6. Place on greased cookie sheet and pat down a bit.
7. Bake at 350 for 10-12 minutes.
8. Add candy eyeballs while cookies are still warm. ENJOY!
4. Pretzel Ghosts


*Picture via Jenifoto – https://www.womansday.com/
Ingredients
• 1 bag of pretzel rods
• 1 bag of white candy melts
• 1 tsp of coconut oil
• Black edible marker
Instructions
1. Microwave white candy melts and 1 tsp of coconut oil in 20-second increments until melted and smoothed
2. Dip ends of pretzel rods in two-thirds of the way, shaking off excess and place on a parchment paper-lined baking sheet.
3. Let set until firm.
4. Use a black edible marker to create the faces.
5. DARK Chocolate Halloween Cookies


*Picture via https://www.simplyhappyfoodie.com/
Ingredients
• 2 sticks Unsalted Butter (1 cup) room temperature
• 3/4 cup Brown Sugar, packed (we love using Big Country Organic Light or Dark Brown Sugar)
• 1 cup Granulated Sugar (we love using Big Country Organic Cane Sugar)
• 2 lg Eggs
• 2 tsp Vanilla Extract
• 2 cups All Purpose Flour
• 3/4 cup Dark Cocoa Powder (such as Hershey's Special Dark®)
• 1 tsp Baking Soda
• 1 tsp Baking Powder
• 1/2 tsp Salt
• 1 tsp Instant Espresso Powder (optional)
• 1 cup Dark Chocolate Chips
• 1 1/4 cups Orange Colored M&M's® (or other orange candy coated chocolate candies)
Instructions
1. I like to use my stand mixer for this recipe as the dough gets very thick.
2. In a mixing bowl, cream together the butter and sugars.
3. Mix in the eggs and vanilla.
4. In a separate bowl, add the flour, cocoa powder, baking soda, baking powder, salt, and espresso powder, if using. Mix together well.
5. Gradually add the dry ingredients to the wet ingredients and mix well.
6. add the dark chocolate chips and mix them in.
7. Add the M&M's® and mix them in gently so they don't break. If a few break that's fine.
8. Line 2 cookie baking sheets with parchment paper.
9. Use a 2 Tbsp ice cream scoop to scoop the dough onto the cookie sheets. Don't press them down, just leave them like that. Make 3 rows of 4. You should get 24 cookies.
10. If you need to, gently press extra M&M's onto the cookies before baking so that bright orange candy shows!
11. Bake in a 350° (F) oven for 8-10 minutes, or until the cookies are done/firm around the edges when pressed. They will still be soft in the middle and just a little puffed up.
12. Remove from oven and cool cookies in the pans for 5 minutes, then transfer to a wire rack to finish cooling.