One of the best parts about summer (in my opinion) is that the grill becomes one of the main cooking instruments in the house. Even though we're lucky that we can grill all year long in California, there's something about grilling in the summertime and enjoying that delicious meal outside that just makes it taste better.
We wanted to share some of our favorite grill recipes that you can try at home this summer. Hope you enjoy!
Grilled Garlic and Black Pepper Shrimp


Photo Credit: Peden + Munk, Bon Appetit
Ingredients
• 1 fresh red chile (such as Fresno), seeds removed, finely grated
• 3 garlic cloves, finely grated
• 1 tablespoon coarsely ground pepper
• 1 tablespoon fresh lime juice
• 2 tablespoons vegetable oil, plus more for grill
• 1 pound large shrimp, peeled, deveined
• Kosher salt
• Lime wedges and Kashmiri chili powder or paprika (for serving)
Special Equipment
• Four 8-inch-long metal skewers or bamboo skewers soaked 30 minutes in water
Instructions
1. Whisk chile, garlic, pepper, lime juice, and 2 Tbsp. oil in a large bowl. Add shrimp and toss to coat; season with salt. Thread shrimp onto sets of 2 skewers.
2. Prepare a grill for medium-high heat; clean grates well, then oil. Grill shrimp, turning once, until cooked through and lightly charred, about 5 minutes total. Serve with lime wedges dipped in chili powder.
Veggie Skewers


Photo Credit: Gimme Some Oven
Ingredients
Vinaigrette:
• 1/4 cup olive oil
• 2 tablespoons white balsamic vinegar (or white wine vinegar)
• 2 cloves garlic, minced
• 1/2 teaspoon salt
• 1/4 teaspoon freshly-ground black pepper
Vegetables:
• 16 cherry or grape tomatoes
• 1 red bell pepper, cored and cut into 1-inch squares
• 1 orange bell pepper, cored and cut into 1-inch squares
• 1 yellow squash, halved and cut into 1/2-inch thick slices
• 1 yellow bell pepper, cored and cut into 1-inch squares
• 1 zucchini, halved and cut into 1/2-inch thick slices
• 1 green bell pepper, cored and cut into 1-inch squares
• 1 large red onion, peeled and quartered then cut into bite-sized pieces
• 8 purple potatoes, halved
Instructions
To Make the Vinaigrette:
1. Whisk all ingredients together until blended.
To Make the Vegetables:
1. Bring a large pot of water to a boil. Then add the halved purple potatoes and boil for 10 minutes or until fork tender, stirring occasionally. Drain.
2. Add the purple potatoes and remaining vegetables to a large bowl, and toss with the vinaigrette until combined. Cover and refrigerate for at least 10 minutes, or up to 8 hours. If you are using wooden skewers, be sure to also soak them in water before grilling.
3. When you are ready to cook the vegetables, heat your grill to medium heat. Thread the vegetables onto skewers, in rainbow order if desired. Sprinkle with additional salt and pepper if desired. Then place the skewers on an oiled grill and cook for 5-7 minutes per side, or until cooked through.
4. Remove and serve immediately.
Sticky Grilled Chicken


Photo Credit: Ethan Calabrese, Delish
Ingredients
• 1/2 c. low-sodium soy sauce
• 1/2 c. balsamic vinegar
• 3 tbsp. honey
• 2 cloves garlic, minced
• 2 green onions, thinly sliced
• 2 1/2 lb. chicken drumsticks
• Vegetable oil, for grill
• 2 tbsp. sesame seeds, for garnish
Instructions
1. In a large bowl, whisk together soy sauce, balsamic vinegar, honey, garlic, and green onions. Set aside 1/4 cup marinade.
2. Add chicken to a large resealable plastic bag and pour in remaining marinade. Let marinate in the fridge at least 2 hours or up to overnight.
3. When ready to grill, heat grill to high. Oil grates and grill chicken, basting with reserved marinade and turning every 3 to 4 minutes, until charred and cooked through, 24 to 30 minutes total.
4. Garnish with sesame seeds before serving.
Grilled Mexican Street Corn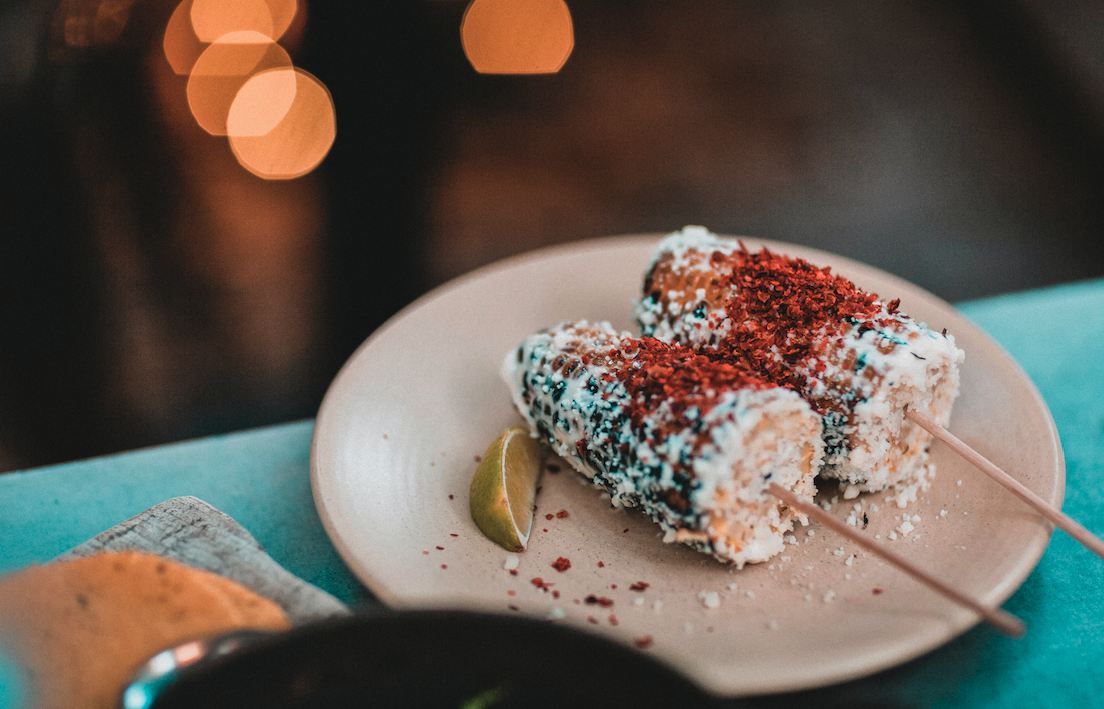 Ingredients
• 6 to 8 medium ears sweet corn, husks removed
• 1/2 cup Mexican crema, or sour cream
• 1/2 cup mayonnaise
• 1/2 cup minced cilantro
• 1 clove garlic, minced
• 1/4 teaspoon ground chipotle pepper, to taste
• 2 teaspoons lime zest, from one lime
• 2 tablespoon lime juice, from one lime
• 1/2 cup cotija cheese, crumbled
• Lime wedges, to serve
Instructions
1. Heat a gas or charcoal grill to 400F. Clean the grates once it has heated.
2. Whisk together the sauce: In a bowl, whisk together the crema, mayonnaise, cilantro, garlic, chipotle pepper, lime zest and lime juice. Taste and season the mixture with salt if needed. (Crema has a little salt already, so add extra judiciously.) Set aside.
3. Grill the corn: Place the husked corn directly onto grill grates. Grill the corn for about 3 minutes, undisturbed, or until kernels begin to turn golden brown and look charred. Turn over and repeat. When all sides are browned, remove from the grill onto a plate.
4. Top the corn with sauce and cheese: Using a brush or a spoon, coat each ear of corn with the crema mixture. Sprinkle with crumbled cojita cheese. Sprinkle with additional chipotle pepper, if desired. Serve immediately with extra lime wedges.
Grilled Tomato-Peach Pizza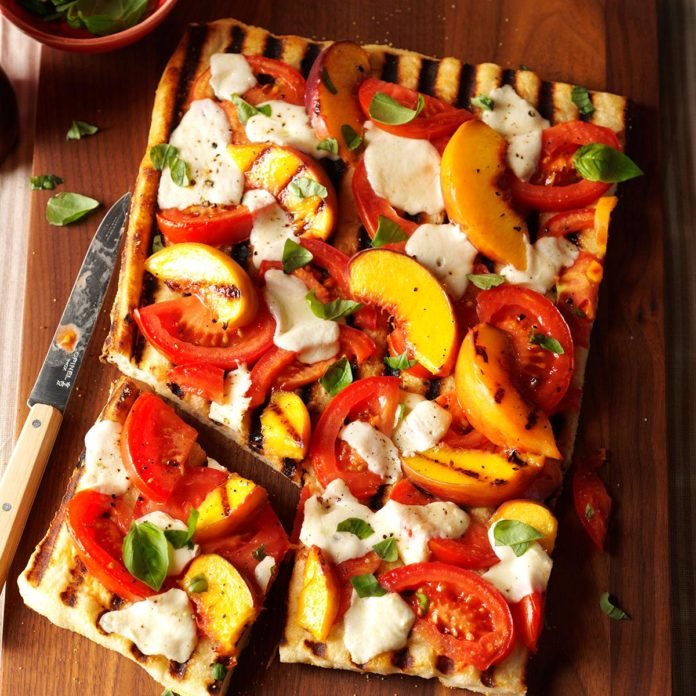 Photo Credit: Taste of Home
Ingredients
• 4 medium tomatoes, thinly sliced
• 1/4 teaspoon salt
• 2 medium peaches, halved
• Cooking spray
• 1 tablespoon cornmeal
• 1 tube (13-1/2 ounces) refrigerated pizza crust
• 4 ounces fresh mozzarella cheese, sliced
• 6 fresh basil leaves, thinly sliced
• 1/8 teaspoon coarsely ground pepper
Instructions
1. Sprinkle tomatoes with salt; let stand 15 minutes. Drain tomatoes on paper towels and pat dry.
2. Coat grill rack lightly with cooking oil. Grill peaches, covered, over medium heat or broil 4 in. from heat until peaches have grill marks and are tender, 2-3 minutes on each side, turning once. Remove peaches; cool slightly. Cut into slices.
3. Coat a 15x10x1-in. baking pan with cooking spray; sprinkle with cornmeal. Unroll crust into pan, pressing into a 12×10-in. rectangle. Spritz with cooking spray. Invert crust onto grill. Grill, covered, over medium heat until bottom is lightly browned, 2-3 minutes. Remove from grill, inverting onto baking pan.
4. Layer grilled side of pizza with tomatoes, peaches and cheese. Return pizza to grill. Cook, covered, until crust is lightly browned and cheese is melted, 3-4 minutes, rotating halfway through cooking to ensure an evenly browned crust. Sprinkle with basil and pepper.