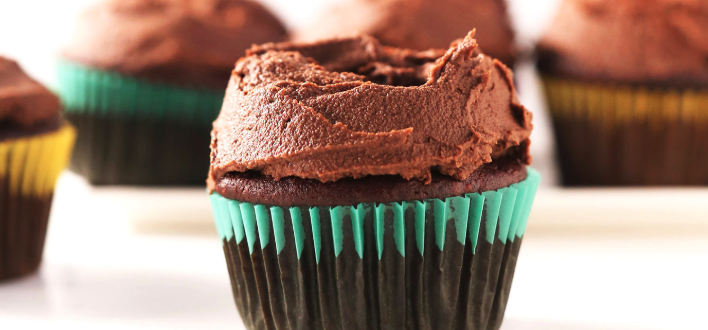 There's no denying that the vegan diet has been increasing exponentially. According to GlobalData, the number of U.S. consumers identifying as vegan grew from 1% to 6% between 2014 and 2017, a 600% increase. And in 2018, sales of vegan foods in America rose ten times faster than food sales as a whole. The surge in the plant-based food trend has only made the vegan lifestyle easier, with tons of options that are easily accessible.
Food Insight gives a really good summary of what constitutes as a vegan diet: "Vegan diets are made up of only plant-based foods. This type of diet includes fruits, vegetables, soy, legumes, nuts and nut butters, plant-based dairy alternatives, sprouted or fermented plant foods and whole grains. Vegan diets don't include animal foods like eggs, dairy, meat, poultry or seafood. They also are devoid of animal byproducts such as honey (made by bees) and lesser-known animal-based ingredients like whey, casein, lactose, egg white albumen, gelatin, carmine, shellac, animal-derived vitamin D3 and fish-derived omega-3 fatty acids."
We wanted to find the tastiest dessert recipes that did not include animal foods such as eggs and dairy and share a list of our favorites. Vegan or not, we guarantee you'll LOVE these!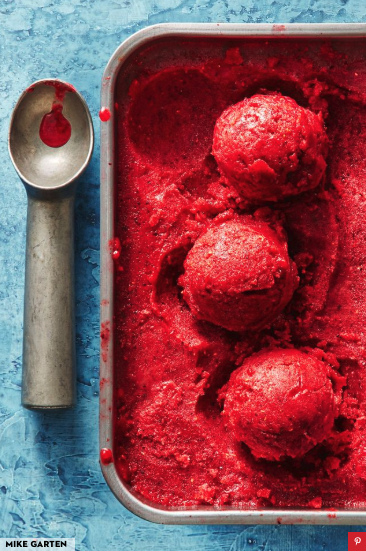 Photo by: Good Housekeeping
Ingredients
• 1 c. sugar (we suggest Big Country Organic Cane Sugar!)
• 1 c. lightly packed fresh basil
• 6 c. frozen mixed berries
• 3/4 c. lemon juice (from about 4 lemons)
Instructions
1. In medium saucepan, combine sugar and 1 cup water. Heat on high until sugar dissolves, stirring occasionally. Add basil. Remove from heat, cover and let stand 15 minutes. Strain syrup into medium bowl, discarding basil. Refrigerate until cold.
2. In blender, puree frozen berries, lemon juice and cooled basil syrup until smooth. Transfer to metal 8-inch square baking pan. Cover with plastic wrap and freeze only until firm enough to scoop (about 2 hours). If sorbet is too hard to scoop, let stand at room temperature until slightly thawed.
Raw Peanut Butter Cookie Dough Superfood Bars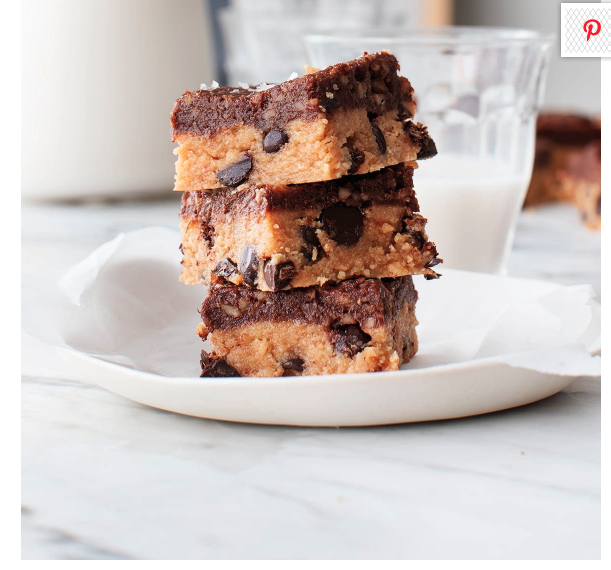 Photo by: Love and Lemons
Ingredients
Cookie Layer
• ½ cup plus 2 tablespoons creamy peanut butter
• ¼ cup plus 1 tablespoon melted coconut oil
• ¼ cup plus 1 tablespoon maple syrup
• 2 teaspoons vanilla extract
• Heaping ½ teaspoon sea salt
• 2½ cups almond flour
• 2½ tablespoons maca powder
• 1 cup chocolate chips
Cacao Layer
• 1½ cups walnuts
• 2 tablespoons cacao powder
• ¼ teaspoon sea salt
• 10 soft medjool dates
• 2 tablespoons water
• Flaky sea salt for sprinkling on top, optional
Instructions
1. Line an 8×8-inch baking pan with parchment paper.
2. In a large bowl, stir together the peanut butter, coconut oil, maple syrup, vanilla, and salt until combined. Add the almond flour and maca and stir to combine (the mixture will be thick). Fold in the chocolate chips and press into the pan. Place in the freezer so that it firms up a bit while making the next layer.
3. In a small food processor, pulse the walnuts, cacao powder, and sea salt until the walnuts are well chopped. Add the dates and pulse to combine, adding 2 tablespoons water if the blade gets stuck. Process until smooth, then spread onto the cookie layer. Sprinkle with sea salt if desired. Freeze for 30 minutes (this will help them firm up, making them easier to cut). Remove and slice into bars. Store remaining bars in the fridge.
4. Finished bars can also be frozen. Let each bar thaw for about 15 minutes at room temperature.
Easy 2-Ingredient Vegan Peanut Butter Cups Recipe

Photo by: Food Network
Ingredients
• 1 bag of vegan chocolate chips (approximately 1 1/2 cups)
• 1/4 cup peanut butter
Instructions
1. Line a muffin tin with paper liners or use a silicon muffin tray
2. In a double boiler melt the chocolate chips until silky smooth. Put 1 teaspoon of melted chocolate into the bottom of the muffin liners and then spread it out evenly with your finger or a spoon. Refrigerate this for 10 mins.
3. Then take 1 teaspoon of peanut butter and put that on top of the hardened chocolate. Don't spread this out with your finger as it will settle itself and stay mostly in the centre. Refrigerate this for 10 mins.
4. If your chocolate has become sludgier while you were waiting just put it back on the double boiler quickly to re-melt it. Then take 1 to 2 teaspoons more of melted chocolate and put that on top of the peanut butter. The peanut butter won't be super hard but it will hold up for the rest of this process. If you're rushed you don't really have to put the peanut butter part in the fridge again.
5. You can push the melted chocolate into the sides a bit with your teaspoon to ensure it runs down to cover the peanut butter. This won't necessarily happen, especially if you don't refrigerate the peanut butter part, but I don't mind them looking a little rustic and oozy anyway!
6. Smooth the top of the cups if you desire, but they might just settle nicely on their own. Then refrigerate this for at least 20 minutes before serving. Store in the fridge in an airtight container or at room temperature if you want softer cups.

Photo by: Delightful Mom Food
Ingredients
• 3 large bananas (about 1 1/2 cups mashed) very ripe will give the best flavor
• 1/2 cup cocoa powder unsweetened
• 1 1/2 cups raw almond butter crunchy, oil slightly drained
• (optional) ¼ teaspoon cinnamon
Instructions
1. Preheat the oven to 350 degrees F. Prepare a 9-in. x 9-in. square baking dish by spraying it with cooking spray or rubbing coconut oil around the sides and bottom so the brownies do not stick.
2. In a large bowl mash the bananas with a fork until smooth. Add the almond butter and mix until smooth. Add the cocoa powder and optional cinnamon and blend until no visible cocoa powder is seen.
3. Pour the batter into the prepared baking pan and bake for 20-25 minutes or until set and slightly dark on the top. Remove from the oven and let cool completely before slicing.
Vegan & Gluten-Free Chocolate Cupcakes


Photo by: Minimalist Baker
Ingredients
Cupcakes
• 1/2 scant cup Unsweetened Almond Milk
• 3/4 tsp apple cider vinegar
• 2 batches flax eggs (2 Tbsp (9 g) flaxseed meal + 5 Tbsp water as original recipe is written)
• 1 1/2 tsp baking soda
• 1/3 cup cane or granulated sugar (we suggest Big Country Organic Cane Sugar!)
• 1/3 scant cup maple syrup or agave nectar (sub honey if not vegan)
• 1 cup beet puree (or sub butternut squash, applesauce, or another hearty fruit puree with varied results)
• 1/4 cup melted coconut oil or vegan butter (such as Earth Balance)
• 1/4 tsp sea salt
• 1/2 cup unsweetened cocoa powder (if clumpy, sift)
• 1/2 cup almond meal (finely ground)
• 1/4 cup gluten-free oat flour
• 3/4 cup gluten-free flour blend
Frosting
• 1/2 cup Almond Breeze Unsweetened Original Almond Milk
• 1 1/4 cup dairy free dark or semi-sweet chocolate (chopped)
• 1/2 cup vegan butter (softened and cut into Tablespoon-sized slices)
• 1 1/4 – 2 cups powdered sugar
Instructions
1. For Beets: To roast beets, preheat oven to 400 degrees F (204 C), drizzle 2 large beets (amount as original recipe is written // adjust if altering batch size) with oil of choice, and wrap in foil. Bake for 50 minutes – 1 hour or until a knife slides through easily. Peel away skins by rubbing foil around and it should shed off easily. Add beets to a food processor or blender and add 1/4 cup liquid of choice (I like a mix of water and orange juice // amount as original recipe is written // adjust if altering batch size). Blend until creamy, smooth and pourable, scraping down sides as needed. Otherwise, sub another fruit puree, such as applesauce, with varied results.
2. For Cupcakes: Preheat oven to 375 degrees F (190 C) and line 11 muffins (amount as original recipe is written // adjust if altering batch size) with paper liners, or lightly grease. Also measure out almond milk and add vinegar. Stir and let curdle while moving onto the next step.
3. Prepare flax eggs in a large mixing bowl and let rest for 5 minutes.
4. Add baking soda to the almond milk vinegar mixture and stir. It should fizz.
5. Add the sugar, maple syrup, and almond milk mixture to the flax egg and beat to combine. Then add beet puree, melted coconut oil, and salt and mix.
6. Add cocoa powder, almond meal, oat flour, and gluten-free flour blend and beat to combine. If the batter appears too thick, add a touch more almond milk, but it should be perfect. If too thin, add a little more gluten-free flour blend + cocoa powder. It should resemble a thin batter that's pourable.
7. Divide batter evenly between muffin tins, filling 3/4 full.
8. Bake for 29-34 minutes or until puffy and a toothpick inserted into the center comes out clean.
9. Let rest in the tin for 10-15 minutes. Then remove and let cool COMPLETELY on a cooling rack. Don't try to sample early because they need to fully cool or they tend to stick to the wrappers.
10. FOR FROSTING: Add almond milk to your rinsed out mixing bowl from earlier and microwave for 1 minute. (Alternatively, heat in a saucepan until just simmering and then transfer back to mixing bowl.)
11. Immediately add chocolate to warm milk but don't touch for 2 minutes so it can melt.
12. Stir with a wooden spoon to incorporate, then add softened butter and cover. Let rest untouched for another 10 minutes to meddle.
13. Use your mixer to beat the mixture together. Then add 1 cup powdered sugar (amount as original recipe is written // adjust if altering batch size), mix again, and place in fridge to set for 20-30 minutes. You'll know it's ready when you tip it and it's slow to move.
14. Remove from fridge and beat again. If it's still too thin, add another 1/4 – 1/2 cup powdered sugar (amount as original recipe is written // adjust if altering batch size) and beat until light and fluffy. I found that chilling for a total of 20 minutes and adding 1 3/4 cups total powdered sugar was perfect (amount as original recipe is written // adjust if altering batch size).
15. Frost cupcakes generously. You'll likely have leftover frosting (unless you're like me). Sprinkles, mint leaves, or fresh raspberries would make the perfect garnish.
16. Will keep well-covered at room temperature for several days, though best when fresh.