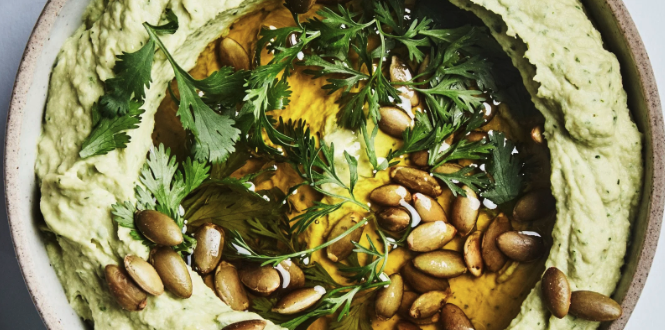 Let's be honest, the best part about the Super Bowl is definitely…the food. Hands down, one of the best days to sit back, relax, and over-indulge. We're sharing our favorite chip and dip recipes to get you ready before the big game!
Spinach-Yogurt Dip with Sizzled Mint

INGREDIENTS
•1 cup walnuts
•8 ounces baby spinach (about 10 cups)
•6 tablespoons extra-virgin olive oil, divided
•1 small onion, finely chopped
•2 garlic cloves, thinly sliced
•Kosher salt
•2 tablespoons dried mint
•3 cups plain whole-milk Greek yogurt
•1 tablespoons fresh lemon juice
•Freshly ground black pepper
INSTRUCTIONS
1. Preheat oven to 350°F. Toast walnuts on a baking sheet, tossing once, until golden brown, 6–8 minutes. Let cool; finely crush with the side of a chef's knife.
2. Place a medium skillet over medium heat and add 1/2 cup water. As soon as you see bubbles, add one-third of the spinach and cook, stirring occasionally, until most of the spinach is wilted, then add more. Continue to cook, stirring occasionally, until all the spinach is in the pan and wilted, 6–8 minutes. Transfer spinach to a bowl of ice water to stop the cooking and lock in its bright green color. Drain and squeeze out excess liquid. Finely chop spinach and set aside.
3. Wipe out skillet and heat 2 Tbsp. oil over medium. Cook onion, stirring occasionally, until soft but without taking on any color, 6–8 minutes. Add garlic and a pinch of salt and cook, stirring occasionally, until garlic is softened, 2–3 minutes. Transfer to a small bowl.
4. Heat remaining 4 Tbsp. oil in a small skillet over medium. Once oil begins to shimmer, remove from heat and stir in dried mint. The oil will sizzle immediately, and the mint will become fragrant. Transfer to a small bowl; season with salt.
5. Combine yogurt, lemon juice, onion mixture, half of the walnuts, and reserved spinach in a medium bowl. Taste and season with salt and pepper. Scrape into a shallow serving bowl and use the back of a spoon to carve a few swirls into the dip. Top with remaining walnuts and spoon sizzled mint oil over.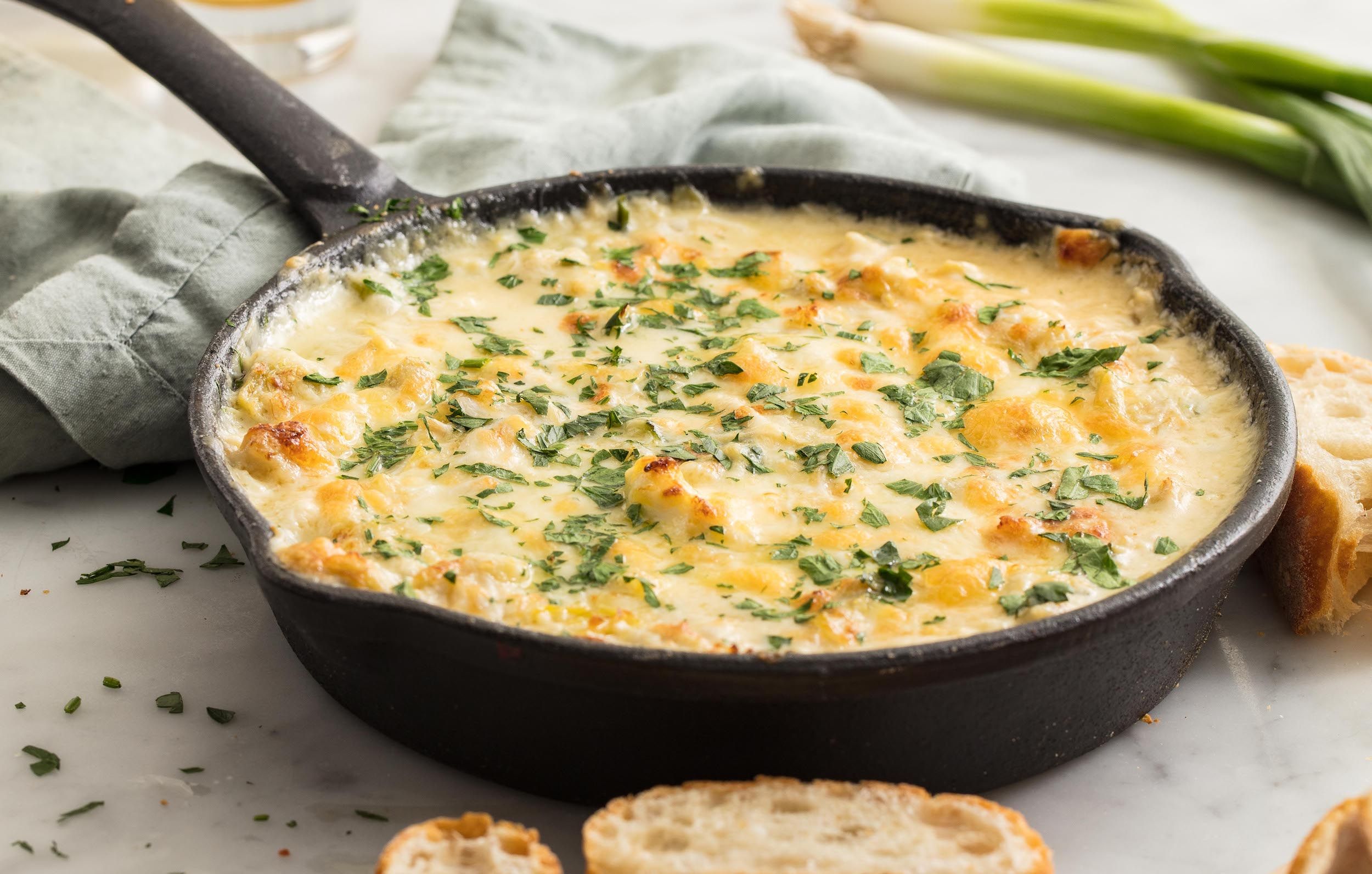 INGREDIENTS
CRAB ARTICHOKE DIP
•1 oz. (8-oz.) block cream cheese, softened
•1 c. mayonnaise
•1 1/2 c. shredded Monterey Jack, divided
•1/2 c. freshly grated Parmesan
•1 oz. (14-oz.) can artichoke hearts, drained and finely chopped
•2 cloves garlic, minced
•12 oz. lump crabmeat
•2 green onions, thinly sliced
•2 tsp. Worcestershire sauce
•Kosher salt
•Freshly ground black pepper
•2 tbsp. Freshly chopped parsley, for garnish
GARLICKY CROSTINI
•1 baguette, sliced
•Extra-virgin olive oil
•Kosher salt
•1 garlic clove, top sliced off
DIRECTIONS
CRAB ARTICHOKE DIP
1. Preheat oven to 425°. In a large bowl, stir together cream cheese, mayonnaise, 1 cup of Monterey jack cheese, Parmesan, artichoke hearts, garlic, crabmeat, green onions, and Worcestershire and season with salt and pepper.
2. Transfer mixture to a 10- or 12-inch oven-safe skillet and sprinkle with remaining 1/2 cup Monterey jack cheese. Bake until golden and bubbly, 15 to 20 minutes.
GARLICKY CROSTINI
1. On a large baking sheet, drizzle a sliced baguette with olive oil and season with salt. Bake at 350° until golden and toasted, 10 minutes. Immediately rub with a whole garlic clove (the flavor will soak into the bread!).
2. Garnish dip with parsley and serve with Garlicky Crostini.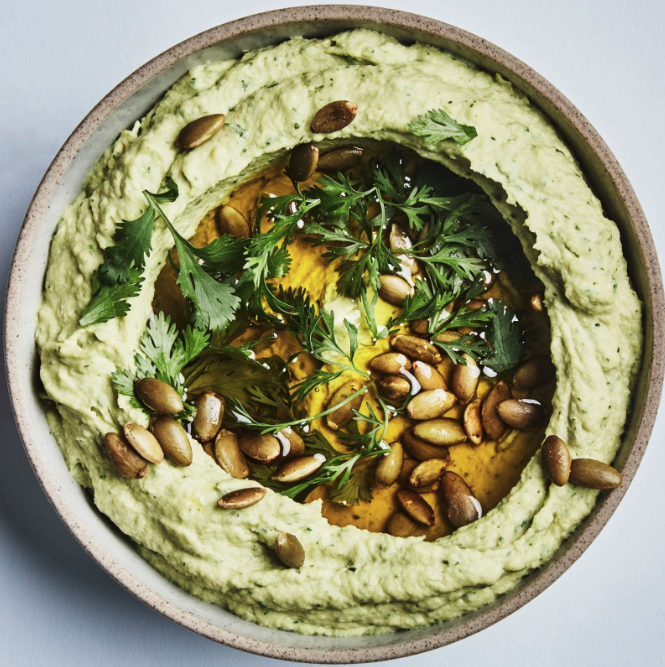 INGREDIENTS
•½ large ripe avocado
•1 15½-ounce can chickpeas, rinsed, drained
•⅓ cup tahini, well mixed
•¼ cup plus 1 tablespoon fresh lime juice
•1 garlic clove, finely grated or smashed to a paste with flat side of knife on cutting board
•¾ teaspoon (or more) kosher salt
•10 cranks freshly ground black pepper
•¼ teaspoon ground cumin
•1 cup cilantro leaves with tender stems
•2 tablespoons olive oil, plus more for drizzling
•Toasted pumpkin seeds (pepitas; for serving)
INSTRUCTIONS
1. Process avocado, chickpeas, tahini, lime juice, garlic, salt, pepper, cumin, and 1 cup cilantro in a food processor until smooth, about 1 minute. With the motor running, stream in 2 Tbsp. oil, then continue to process until hummus is very light and creamy, about 1 minute longer. Taste and season with salt, if needed.
2. Transfer hummus to a shallow bowl. Top with pepitas and cilantro and drizzle with more oil.
**Do Ahead: Hummus can be made 4 days ahead. Transfer to an airtight container, cover surface with plastic, and chill.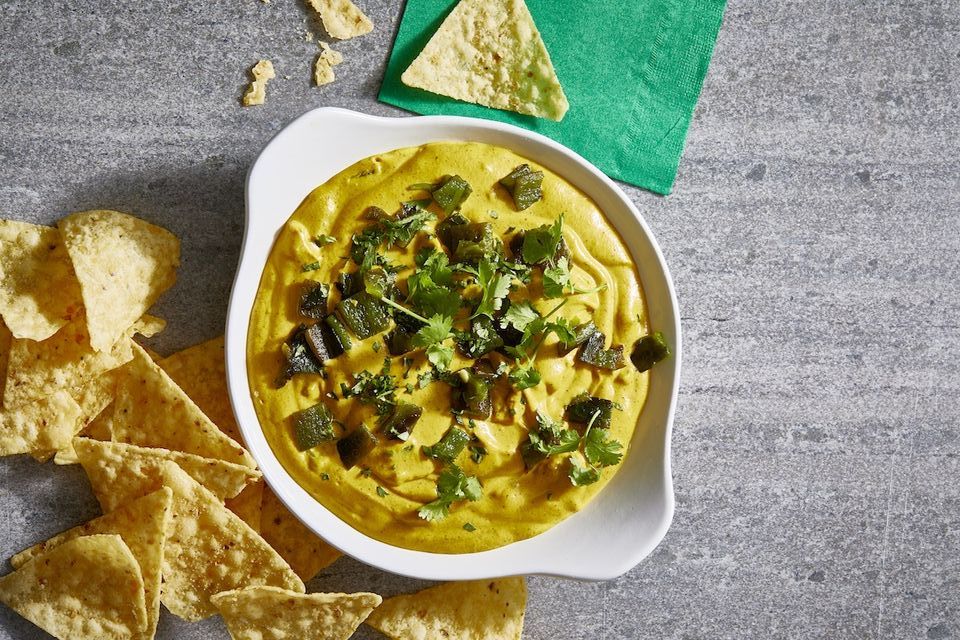 INGREDIENTS
•2 large poblano peppers, halved and seeded
•1 tbsp. olive oil
•2 cloves garlic, pressed
•1 c. cashews
•2 tsp. chili powder
•1 tsp. ground cumin
•1/2 tsp. ground coriander
•1/2 tsp. ground turmeric
•Kosher salt and pepper
•1/4 c. nutritional yeast
•Chopped cilantro and tortilla chips, for serving
INSTRUCTIONS
1. Heat broiler. Arrange poblanos, cut sides down, on rimmed backing sheet and broil until charred, 3 to 5 minutes. Transfer to bowl, cover, and let sit 5 minutes. Use paper towel to remove skins, then cut peppers into ¼-inch pieces.
2. Meanwhile, heat oil and garlic in small saucepan on medium until sizzling, about 1 minute. Remove from heat and stir in cashews, then spices and ½ teaspoon each salt and pepper. Add 1½ cups water and bring mixture to a boil. Reduce heat and simmer until cashews are tender, 10 to 12 minutes.
3. Transfer mixture to blender, add nutritional yeast and ½ cup water, and puree until smooth.
4. Return mixture to saucepan and cook, stirring occasionally, until thickened, 6 to 8 minutes. Fold in all but 2 tablespoons poblanos. Transfer to serving dish, top with remaining poblanos, and sprinkle with cilantro. Makes 2 cups. Serve with tortilla chips.
Cheesey Chorizo Caramelized Onion Dip
INGREDIENTS
•2 cups onion chopped
•3 tablespoons butter
•1/8 teaspoon thyme
•½ chorizo sausage about 6 ounces
•8 ounce package of cream cheese
•¼ cup mayonnaise
•1/3 cup mozzarella cheese
•¼ cup chopped chives or green onions
•kosher salt
INSTRUCTIONS
1. Remove chorizo from casing and cook in a medium skillet over medium high heat for about 10 minutes, chopping with spoon and stirring occasionally. Set aside.
2. In another skillet, melt butter over medium heat and add onion. Add thyme, season with kosher salt and lower heat to medium-low and cook onion for about 20 minutes until onions become soft and caramelized.
3. In a medium sized bowl add cream cheese and mayonnaise and mix well until smooth. Add mozzarella cheese, caramelized onions, green onions and mix well. Gently fold in chorizo. Pour into a 2 cup baking dish.
4. Place on a baking sheet and bake at 350 degree F for 12-15 minutes or until dip is golden and bubbly. Garnish with additional green onion and serve with baguette slices or tortilla chips.