This time of year means lots of holiday gatherings with just about everyone – friends, family, coworkers, you name it. If you're hosting any of these gatherings, it's always a fun touch to get festive by offering up a signature cocktail with a holiday spin.
You can find holiday cocktail recipes for just about anyone – hot, cold, vodka, or whisky. Follow the directions word for word or get creative (here at Gillco, we might try using functional sweeteners like stevia or erythritol instead of the real thing!).
Find some inspiration from 5 of our favorites recipes below:
Ingredients
• 2 ounces vanilla vodka
• 2 ounce white chocolate liqueur
• 1 ounce white creme de cacao
• 1 ounce half-and-half
• Honey and coarse sanding sugar for rim garnish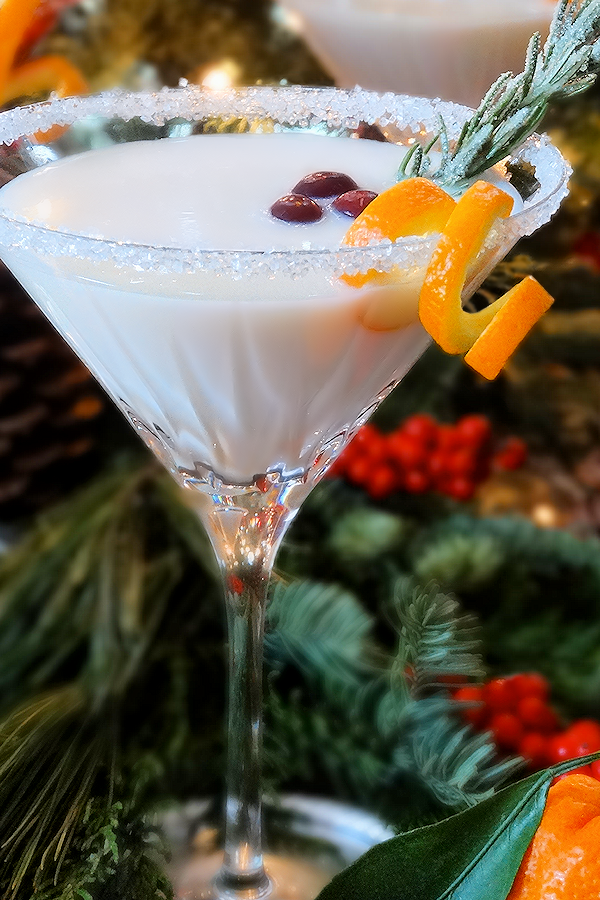 Directions
1. Pour the honey into a shallow dish and put the sanding sugar in another shallow dish. Coat the rim of the glass in the honey; then dip the rim in the sugar to coat evenly. Set the glass aside.
2. In a cocktail shaker filled with ice, add the vodka, white chocolate liqueur, creme de cacao, and half-and-half. Shake vigorously and strain into the prepared martini glass.
2. CRANBERRY ORANGE BOURBON COCKTAIL
Ingredients
• 2 oz fresh squeezed orange juice
• 2 oz bourbon
• 1 1/2 teaspoon orange ginger simple syrup
• 1 1/2 teaspoon brandied cranberries syrup (recipe follows)
• Dash of bitters
• Brandied cranberries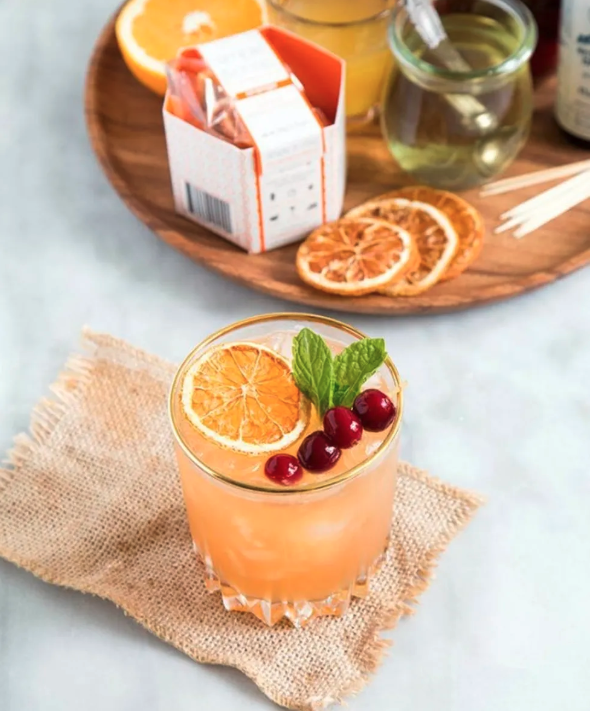 Orange Ginger Simple Syrup:
• 1 cup water
• 1 cup granulated sugar
• 4-inch piece ginger, peeled and sliced into small matchsticks
• Orange peels from half an orange
Brandied Cranberries (in syrup):
• 6 oz fresh cranberries, washed and picked
• 3/4 cup granulated sugar
• 3/4 cup water
• 1 cinnamon stick
• 1/2 cup brandy
Directions
1. Fill highball glass half full of crushed ice. Add orange juice, bourbon, orange ginger simple syrup, brandied cranberries syrup, and a dash of bitters. Stir to combine. Add additional ice, if necessary. Garnish with brandied cranberries and dried orange crisp.
Orange Ginger Simple Syrup:
1. In a medium pot, combine water, sugar, ginger, and orange peels. Bring mixture to a boil until sugar dissolves. Remove from heat. Cover pot with lid and let steep for 20 minutes. Strain ginger and orange peels. Transfer simple syrup to an airtight container and store in the fridge until ready to use. Keeps in the fridge for two weeks.
Brandied Cranberries:
2. In a small pot, bring water and sugar to a boil. Add cranberries and stir until coated in syrup. Cook for 30-45 seconds just before the cranberries start to pop open. Remove from heat and transfer to a 1/2 liter jar. Add cinnamon stick. Pour in brandy. Pour in enough sugar syrup to fill the jar. Cover with lid and let chill in the fridge for at least 48 hours before using. The longer it sits, the better it gets!
Ingredients
• Ice
• 2 oz. Kahlua
• 2 oz. vodka
• 2 oz. heavy cream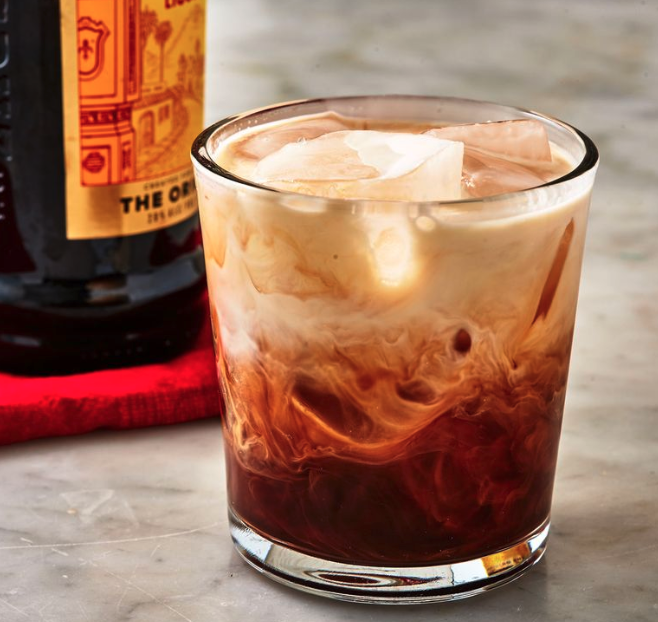 Directions
1. Fill a rocks glass with ice. Pour Kahlua and vodka into glass. Pour heavy cream over top and serve.
4. COQUITO
Ingredients
• One 15-ounce can cream of coconut, such as Coco Lopez
• One 14-ounce can sweetened condensed milk
• One 12-ounce can evaporated milk
• 1 cup unsweetened coconut milk beverage
• 1/2 cup white rum
• 1 teaspoon pure vanilla extract
• 1/2 teaspoon ground cinnamon
• 1/4 teaspoon freshly grated nutmeg, plus more for serving
• Cinnamon sticks, for serving
Directions
1. Put the cream of coconut, condensed milk, evaporated milk, coconut milk beverage, rum, vanilla, cinnamon and nutmeg in a blender and blend until smooth, about 2 minutes. Transfer to a pitcher, cover tightly with plastic wrap and refrigerate until very cold, about 1 hour.
2. Give the coquito a good stir (the mixture may separate slightly as it sits). Pour into individual mugs or glasses, top with more nutmeg and serve with a cinnamon stick.
Ingredients
• 5 (1-in.) chunks peeled fresh ginger
• 1 c. water
• 1/2 c. honey
• 1/2 c. fresh lemon juice
• pinch cayenne (ground red) pepper
• pinch salt
• 6 oz. blended Scotch
Directions
1. In blender, puree ginger and water; strain juice into a medium bowl and discard solids.
2. Whisk honey, lemon juice, cayenne and salt into ginger juice. Stir in blended Scotch. Serve over ice.